Trail Blazers forward Justise Winslow had a second opinion on his Grade 2 left ankle sprain sometime after the All-Star break and underwent a bone marrow aspirate concentrate procedure in March to address persistent pain from the injury, the team announced in a press release.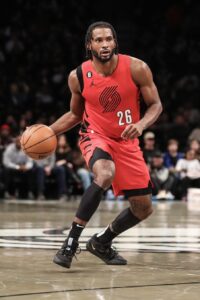 The Blazers say Winslow will continue to rehabilitate and will be reevaluated "in the coming weeks." Considering he last played on December 21, it's pretty safe to say he'll miss the remainder of the 2022/23 regular season.
It's another tough setback for Winslow, a former lottery pick (10th overall in 2015) whose career has been severely impacted by injuries. Over the past four years, he has played just 114 regular season games, for an average of 28.5 games per season.
In addition to injuries, Winslow has also struggled mightily with scoring efficiency throughout his eight NBA seasons, posting a .412/.315/.638 shooting line (.477 true shooting percentage) in 344 contests (25.9 MPG). However, he is a solid rebounder and plus passer for a forward, on top of being a strong, versatile defender.
Winslow will turn 27 years old later this month. In 29 games (26.8 MPG) this season, he averaged 6.8 PPG, 5.0 RPG, 3.4 APG and 1.0 SPG on .409/.311/.714 shooting (.466 TS%).
A former national champion at Duke, Winslow will be an unrestricted free agent this summer. He is earning $4.1MM in the final year of his contract.