Forward Justise Winslow underwent successful left ankle surgery on Wednesday to address joint instability, the Trail Blazers announced in a press release. He is expected make a full recovery and be ready for next season, per the team.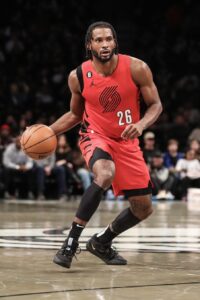 Winslow had a separate ankle procedure earlier this month to address persistent pain from what was initially diagnosed as a Grade 2 ankle sprain in December.
At the time of the first surgery, the Blazers said he would be reevaluated "in the coming weeks." Evidently that reevaluation led doctors to believe a second surgery was necessary for the ankle to fully heal.
It's another unfortunate setback for the 27-year-old, who has missed significant time due to injuries throughout his eight-year career. Over the past four seasons, Winslow has appeared in just 114 regular season games.
In 29 games (26.8 MPG) this season, Winslow averaged 6.8 PPG, 5.0 RPG, 3.4 APG and 1.0 SPG on .409/.311/.714 shooting. He will be an unrestricted free agent this summer and is earning $4.1MM in the final year of his contract.