5:46pm: Coach Chris Finch confirms that Towns will play tonight with "some sort of limitations" on his minutes, tweets Timberwolves writer Dane Moore. Finch added that he had "no update" on Edwards' status, which will likely be determined during warmups.
---
10:32am: Barring a setback in pregame warmups, Timberwolves big man Karl-Anthony Towns will return on Wednesday from a calf injury that has sidelined him for the last 51 games, according to reports from Shams Charania of The Athletic and Adrian Wojnarowski of ESPN (Twitter links). Speaking to Ramona Shelburne of ESPN, Towns confirmed the news.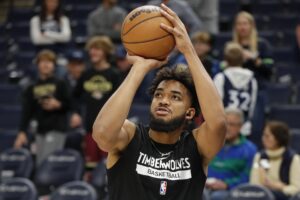 "I'm super excited to get back out on the court and help my team because these next nine games are super important," he said.
Charania first reported yesterday that Towns could be cleared to play on Wednesday vs. the Hawks. He also stated that Anthony Edwards (ankle sprain) might make his return against Atlanta, but Edwards' status remains unclear. Both Towns and Edwards were listed by the Wolves as questionable for Wednesday's contest.
Towns injured his calf on November 28 and reporting around the time of his injury suggested he would miss about four-to-six weeks. However, his recovery process has extended well beyond that, with the 27-year-old indicating this week that he experienced a "major setback" in January that essentially reset his rehab.
Towns was still adjusting to playing in the frontcourt alongside newcomer Rudy Gobert when he went down. His scoring average (20.8 PPG), rebounding rate (8.2 RPG), and three-point percentage (32.5%) were all career worsts or close to it, though he was still making 50.5% of his shots from the field and was thriving as a facilitator, with a career-best 5.3 assists per game.
With just nine games left in the season and the 36-37 Wolves in the midst of a tight playoff race (they currently hold the No. 9 seed in the West), Towns will have to get back up to speed quickly. He told Shelburne that he doesn't expect to face major minute or role restrictions upon returning.
"I'm just trying to pick up where I left off," Towns said. "I was telling my dad right before I got hurt, I felt the most complete as a player in my career. From defensive end, from offensive end, from a mental aspect, leadership aspect … I felt very complete."
Following Wednesday's matchup vs. Atlanta, the Wolves will finish the season with seven of their last eight contests against Western Conference teams, including a three-game road set in Golden State, Sacramento, and Phoenix starting this Sunday. They also have home games against the Lakers, Trail Blazers, and Pelicans on tap before the end of the regular season.