Lakers superstar LeBron James has been diagnosed with a tendon injury in his right foot and will be reevaluated in about three weeks, the team announced (Twitter link via Jovan Buha of The Athletic).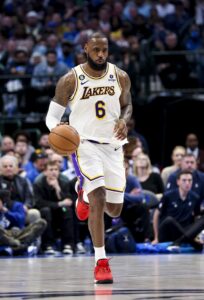 Even if his reevaluation goes well in a few weeks and he's medically cleared, it seems safe to say that James will need some time to ramp up his conditioning. If he were to return to the lineup in exactly three weeks, the Lakers would have nine games remaining on their schedule.
This is the first official update the Lakers have given since reports surfaced on Monday that James could be out multiple weeks. He suffered the injury during Sunday's game against Dallas, in which the Lakers rallied from a 27-point deficit to pull out a 111-108 win, with James scoring 11 points in the fourth quarter despite being injured.
"It's been better," James said after the game. "That's for sure. But I definitely wasn't going to go to the locker room and not finish the game out tonight. Just understood the importance of the game, and then with the momentum that we had, I felt like we could still win after being down. We'll monitor it the next couple days, see how it feels and go from there."
James reportedly will not require surgery for the injury. He was spotted wearing a walking boot and moving "gingerly" during the Lakers' loss in Memphis on Tuesday night, but returned to L.A. and was away from the team during Wednesday's victory in Oklahoma City.
If there is one silver lining to James' absence it's that the Lakers have the third-easiest remaining schedule of any team, according to Tankathon. As Dan Woike of The Los Angeles Times tweets, over the next three weeks, the Lakers have a five-game homestand against Minnesota, Golden State, Memphis, Toronto and New York, followed by road games in New Orleans and Houston, then another homestand versus Dallas, Orlando and Phoenix.
The 38-year-old has been limited to 47 games this season, but continues to play at a very high level, averaging 29.5 points, 8.4 rebounds and 6.9 assists in 36.1 minutes per night. James became the NBA's all-time scoring leader last month and was named to his 19th All-Star team, tying Kareem Abdul-Jabbar for another league record.
At 30-33, the Lakers are currently the No. 11 seed in the West. However, the standings are so close they only trail the No. 5 seed Clippers by 2.5 games.