MARCH 15: The Bucks have officially signed Leonard for the rest of the season, the team confirmed in a press release on Tuesday night.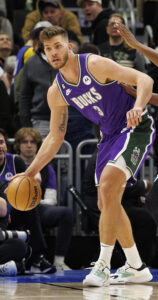 It's a minimum-salary deal, per Jim Owczarski of The Milwaukee Journal Sentinel. Leonard will earn $409,916, while the Bucks will take on a cap hit of $284,911. However, the actual cost of the signing will exceed $1MM, according to Owczarski, due to the fact that team salary is well over the luxury tax line.
Leonard said on Tuesday that he's "connected really well across the whole organization" since arriving in Milwaukee on his first 10-day deal and is grateful to the Bucks for bringing him aboard.
"I texted (general manager) Jon (Horst). I'm hoping to talk to (team governor) Marc (Lasry) at some point at length, or a little bit more intimately I guess, to say thank you," Leonard said, per Owczarski. "They changed my life. They really did. This is going to be hard for me not to get emotional right now. It's honestly hard to describe what this feeling feels like."
---
MARCH 14: The Bucks are signing center Meyers Leonard for the remainder of the season, ESPN's Adrian Wojnarowski tweets.
Milwaukee had to make a decision whether to offer Leonard a standard contract or let him go, since his second 10-day contract has expired. In five appearances thus far, Leonard is averaging 2.8 points and 2.0 rebounds in 6.8 minutes per game.
Prior to joining the Bucks, Leonard hadn't played since the 2020/21 season.
A combination of personal controversy and ankle and shoulder surgery recoveries kept him sidelined in the intervening seasons. Leonard was flipped from the Heat to the Thunder after using an antisemitic slur during a video game live stream. Oklahoma City subsequently released him.
The seven-foot Leonard, 31, provides big man depth for a club with Brook Lopez starting in the middle and Bobby Portis backing him up on most nights.