The Pistons have signed second-year forward Eugene Omoruyi to a contract that covers at least the rest of the 2022/23 season, the team announced.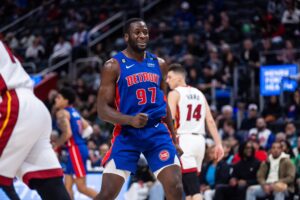 The 26-year-old just completed his second 10-day deal with Detroit, and the Pistons decided to keep him around. Head coach Dwane Casey and center James Wiseman praised Omoruyi for his drive, energy and defense in recent weeks.
The former Oregon standout was on a two-way contract with the Thunder earlier this season until being promoted to Oklahoma City's standard roster after last month's trade deadline. However, he was cut in late February in order to make room for Lindy Waters on OKC's 15-man squad.
Omoruyi appeared in 23 games with the Thunder, averaging 4.9 points and 2.3 rebounds on .468/.258/.607 shooting in 11.8 minutes per night. In 10 games with the Pistons, he's averaging 8.8 points and 3.6 rebounds on .455/.231/.750 shooting in 21.3 minutes per contest.
We'll have to wait for more details to see whether Omoruyi's new contract only covers the rest of the season or is a multiyear deal. Either way, the Pistons had a roster opening after his second 10-day contract expired, so they didn't have to release anyone to bring him back.