Grizzlies center Steven Adams had a stem cell injection on Wednesday as part of his treatment for a PCL sprain in his right knee, the team announced (via Twitter). His condition will be reevaluated in about four weeks.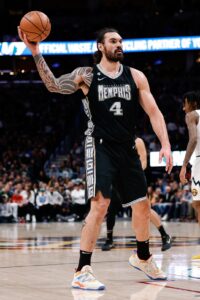 Adams hasn't played since January 22, but there had been hope that he was nearing a return. He was doing 5-on-5 work in practice in late February, and coach Taylor Jenkins floated the possibility that he might be able to play on the team's recent road trip, which wrapped up Tuesday.
With a month left in the regular season, it's almost certain that Adams won't be back before the playoffs. His availability for the postseason will depend on how his knee responds to the latest treatment.
The news on Adams continues a brutal week for the Grizzlies, who saw Ja Morant step away from the team for an indefinite time following a gun-related incident over the weekend and learned that Brandon Clarke will be lost for the season with a torn Achilles. That means Memphis, which has fallen into third place in the West after three straight losses, will have to finish the season without two of its frontcourt rotation players.
The Grizzlies' recent downturn began after Adams suffered his injury. He's averaging 8.6 points and 11.5 rebounds in 42 games and brings a physical presence in the middle that has been missed.
The 29-year-old agreed to a two-year extension before the start of the season and is under contract through 2024/25.