This is the fifth entry in our series breaking down the significant trades of the 2022/23 season. As opposed to giving out grades, this series explores why the teams were motivated to make the moves. Let's dive into a deal four-team deal involving the Knicks, Trail Blazers, Sixers and Hornets.
---
On February 9:
The Knicks acquired Josh Hart, the draft rights to Bojan Dubljevic, and the draft rights to Daniel Diez (all from Trail Blazers).
The Trail Blazers acquired Matisse Thybulle, Cam Reddish, Ryan Arcidiacono, the Knicks' 2023 first-round pick (top-14 protected), and the draft rights to Ante Tomic (from Knicks).
The Sixers acquired Jalen McDaniels, the Knicks' 2024 second-round pick (from Hornets), and the Trail Blazers' 2029 second-round pick.
The Hornets acquired Svi Mykhailiuk, either the Hornets', Hawks', or Nets' 2023 second-round pick (whichever is most favorable; from Sixers), and either the Pelicans' or Trail Blazers' 2027 second-round pick (whichever is most favorable; from Trail Blazers).
Note: The Hornets had traded away their 2023 second-round pick in a prior deal.
Note: The Blazers, Sixers and Hornets all generated traded player exceptions in this deal, which can be found here.

The Knicks' perspective:
Any time you deal away a first-round pick, even if it's lottery-protected, ideally you want to re-sign the player you're acquiring, particularly a player who can become a free agent in the offseason like Hart. The Knicks almost certainly would not have made this deal for 25 games of Hart – you can bet that they intend to bring him back, and they have his Bird rights, meaning they won't require cap room to sign him.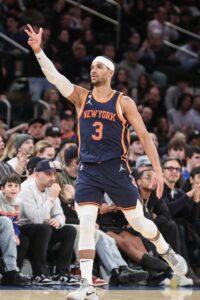 Hart has already said multiple times that he's looking for a home, is tired of moving, and hopes to remain with New York. That would certainly suggest that there's mutual interest in the veteran wing sticking with the Knicks, even if the they haven't publicly said anything about it.
I liked Hart's fit with the Knicks when the trade was announced, and he has played very well for New York — the team is undefeated in his eight games. He's averaging 11.5 points, 5.4 rebounds, 3.4 assists and 1.4 steals on .618/.600/.667 shooting in 27.0 MPG thus far.
Obviously, those shooting splits are unsustainable, but Hart has a lot of desirable qualities that mesh well with the players on the roster. One interesting wrinkle is that Hart has been closing games over RJ Barrett, which I think is smart from head coach Tom Thibodeau – Hart is a better defender and doesn't need the ball on offense. We'll see if it continues going forward.
Hart has always struck me as a player Thibodeau would love because he plays with maximum effort, chasing after loose balls all over the court. He is a hard-nosed, versatile defensive player. He also is a solid passer on offense, even if he's fairly limited as a half-court scorer.
The 27-year-old (he turns 28 on Monday) compensates for his relative lack of half-court scoring by being an absolute bull in transition, often pulling down rebounds and going coast-to-coast. He is one of the best rebounders in the league for a wing, particularly for his size (6'5", 215 pounds), averaging 7.7 boards per game over the past three seasons.
There are two primary knocks against Hart. One is his all-out playing style has led to a number of injuries. He has missed an average of about 19 games per season in his five years leading up to 2022/23, though he has only been sidelined for three this season, not counting the two games missed due to the trade.
The second is that teams are going to dare him to shoot threes, as he's only at 34.7% for his career from downtown (the league average is 36.0% this season). He was weirdly reluctant to shoot threes with Portland, going through long stretches where he would pass up wide-open shots. That inhibits offensive spacing and can be problematic when paired with a non-shooting big.
Still, he is a valuable role player who does a solid job defending against tough competition, and his ability to make plays for himself and others — especially on fast breaks — is a nice addition to the Knicks. They're 27th in pace, so he gives them some extra juice.
Reddish had not played in a game since December 3, and trading a protected first-rounder for him last year didn't pan out. Arcidiacono and Mykhailiuk rarely saw the court, only playing a combined 66 minutes all season for New York. Trading away three players who weren't contributing to the team's on-court success for an impactful role player who almost immediately started closing games is a big deal, especially considering the Knicks have only made the playoffs once in the past nine years.
---
The Trail Blazers' perspective:
Portland received a former first-round pick in Reddish and the Knicks' lottery-protected first-rounder this season for a high-end role player in Hart. Arcidiacono was included for salary-matching purposes and is unlikely to have a role, but he's not a bad fallback option as a third-string point guard – he takes care of the ball and is a decent shooter.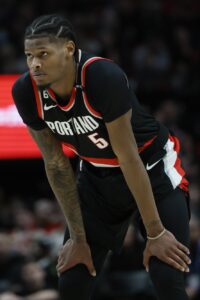 The Blazers also snagged Thybulle for a second-round pick (to Philly) and sent Charlotte another second-rounder to take a player they didn't want (Mykhailiuk).
The primary reason the Blazers made this trade is that Hart has an odd contract and is expected to opt out of his player option in search of a long-term raise in free agency. Paying both Hart and Jerami Grant (UFA) would have pushed them into the luxury tax without other cost-cutting moves.
For as solid as Hart is, it's not like Portland was going anywhere this season whether he was in the lineup or not. It's a shame, because Damian Lillard has been phenomenal (he's averaging a career-high 32.3 points with a 65.3 true shooting percentage — he's at peak Stephen Curry levels of volume and efficiency), but the roster just isn't good enough to do much beyond fighting for the back end of the play-in tournament.
As previously mentioned, Hart was oddly reluctant to shoot threes this season with the Blazers and I'm not really sure why. However, he will be missed for everything else he provides — most of their problems stem from rebounding and defense anyway, and he was one of their best players in both of those categories.
I like the Thybulle pickup and he looks like a good fit on the roster. He isn't going to keep shooting 51.6% from beyond the arc like he has through seven games as a Blazer, but he was pigeonholed into a very narrow role with the Sixers and I believe he can provide more all-around value than he showed with them.
Thybulle is an absolute menace on defense and he knows that's what he's best at. A part-time wing player earning All-Defensive nods two seasons in a row is practically unheard of, but those awards were well deserved. The Blazers need all the help they can get on that end.
Reddish has now been dealt twice in a little over a year, with his value diminishing pretty drastically – the Knicks gave up a protected first-rounder to acquire him last year, but now moved him and a lottery-protected first to land Hart. The 23-year-old, who was the No. 10 overall pick in 2019, has yet to solidify himself as a solid NBA player.
Like Thybulle, Reddish has played well for Portland so far, averaging 14.1 points, 2.5 rebounds, 2.3 assists and 1.3 steals on .470/.373/.941 shooting in eight games (27.7 minutes). Those numbers far exceed his career averages, which are pretty underwhelming (10.4 points, 3.0 rebounds, 1.3 assists, 1.0 steal on .398/.327/.849 shooting in 161 games (24.7 minutes).
Both Thybulle and Reddish can be restricted free agents in the summer if the Blazers extend each of them a qualifying offer – I don't think that's a lock for either player, particularly Reddish.
The first-rounder Portland acquired from New York would currently land at No. 23 overall, which is decent. Definitely nothing to scoff at for a player on a pseudo-expiring contract whom the Blazers couldn't reasonably afford to retain given the overall state of the team. If the Knicks go in a major slump to end the season and miss the playoffs — which seems extremely unlikely considering how hot they've been lately — the Blazers would instead receive four second-round picks.
Another aspect of this deal from Portland's side is that it probably made them worse in the short term, which increases the odds of missing the playoffs and keeping their own lottery pick. The Blazers owe their pick to the Bulls if they make the postseason – if it doesn't convey this year, the protections roll over to 2024 (it's lottery-protected for several years, which makes it difficult for the team to trade future picks due to the Stepien rule).
---
The Hornets' perspective:
Charlotte's side of things is pretty straightforward. The Hornets were concerned about how much McDaniels would cost in unrestricted free agency and decided to move him and get something of value while they could.
I don't think they necessarily wanted to trade McDaniels, especially after spending four years working with him on developing his game and seeing it start to pay off. Forwards who are 6'9″ with a bit of two-way versatility aren't exactly common.
The problem is that Gordon Hayward is under contract through next season, the Miles Bridges situation still isn't resolved, P.J. Washington will be a restricted free agent this summer, and Kelly Oubre is unrestricted. McDaniels is arguably the worst player of the group, making him relatively expendable.
The Hornets are almost certainly getting back their own 2023 second-rounder in the deal, which Philadelphia previously controlled and would currently land at No. 34 overall. Charlotte sent New York's 2024 second-rounder to the Sixers as part of the multi-team agreement, which was slightly surprising, but if the Knicks are good again next year, that pick would land in the back half of the second round.
That No. 34 overall selection has real value and could be packaged with other seconds to move into the late first round this June. It could also be paired with Denver's first-rounder (currently No. 28), which the Hornets control, to move up a little. Either way, it gives them more options in the upcoming draft and for trades.
The Hornets also picked up a 2027 second-rounder from Portland to take on Mykhailiuk's salary. It's reasonable to view that as a higher upside pick than the Knicks' second-rounder they shipped to Philly. President of basketball operations Mitch Kupchak selected Mykhailiuk No. 47 overall back in 2016 when he was with the Lakers, so there is a connection there, but it seems unlikely that the veteran wing will have much of a role going forward.
---
The Sixers' perspective:
The key takeaway from the Sixers' side of things is they moved out of the luxury tax and arguably upgraded on the wing at the same time. I'm not sure I would take McDaniels over Thybulle in a vacuum, but it's at worst debatable and he certainly provides length and positional size, which the team lacked.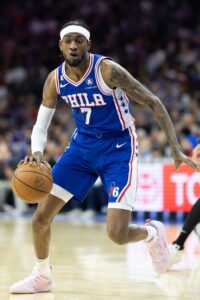 Thybulle is a terrific defensive player, but he wasn't consistently in the rotation this season due to his offensive limitations. He seemed to fall out of favor with the team after last year's poor playoff showing, and the Sixers decided to trade him instead of letting him reach free agency.
McDaniels was averaging career highs in all the major counting stats for Charlotte, including points (10.6), rebounds (4.8), assists (2.0), steals (1.2) and minutes (26.7) per game. The 25-year old also hasn't missed a game this season, which is impressive (he technically did miss one game due to the trade, but that was out of his control).
McDaniels doesn't stand out in any one particular area, which is sort of a double-edged sword. It means he's versatile enough to do a lot of different things on the court, but none at an elite level.
The big question mark with McDaniels is essentially the same as it was with Thybulle: can he make enough threes to stay on the court against top teams? With a roster loaded with talented scorers, other types of shots are hard to come by for role players like McDaniels. He is only at 34.1% for his career from deep, including 32.1% this season.
The Sixers picked up his Bird rights as part of the trade, giving them the ability to offer McDaniels more money and years than rival teams. For what they gave up, they likely aren't committed to re-signing him though, nor should they be. They have the rest of the season to evaluate him and see how he does in the playoffs.
The 25-year-old's minutes have been cut back pretty significantly since the trade, and his role is more in line with what it would be on a good team (which Philadelphia is). He was getting more run with the Hornets out of necessity due to injuries.
As previously mentioned, the Sixers basically swapped second-round picks with Charlotte, though the one they got back has far less upside. They also received Portland's 2029 second-rounder for Thybulle — not much of a return, but he was only averaging 12.1 minutes per game with Philly this season and is on an expiring contract.