This is the seventh entry in our series breaking down the significant trades of the 2022/23 season. As opposed to giving out grades, this series explores why the teams were motivated to make the moves. Let's dive into a deal between the Pelicans and Spurs…
---
On February 9, the Pelicans sent guard Devonte' Graham and four second-round picks (details here) to the Spurs in exchange for swingman Josh Richardson.
The Pelicans' perspective:
Acquiring Graham via sign-and-trade in 2021 didn't work out for New Orleans. The team wound up dealing for CJ McCollum last year and running him at starting point guard, and Graham got outplayed by undrafted free agent Jose Alvarado in each of the past two seasons.
The Pelicans also had former first-rounder Kira Lewis Jr. return from a torn ACL in 2022/23 and drafted Dyson Daniels No. 8 overall last summer. Carrying five players on the 15-man roster who primarily play the point isn't ideal.
There's also the fact that, when healthy, both Zion Williamson and Brandon Ingram handle the ball a significant portion of the time and are play-makers. That makes a short (6'1″) subpar defender like Graham an awkward fit.
The 6'6″ Richardson, meanwhile, fills a positional need at shooting guard and is a much better defensive player than Graham. At his best, Richardson uses his 6'10" wingspan, athleticism and quick hands to be disruptive on that end of the floor — he has averaged 2.6 SPG and 0.8 BPG through nine games with the Pelicans (his career marks are 1.1 SPG and 0.6 BPG).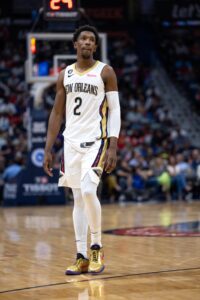 Shedding Graham's salary over the next couple of seasons — he's owed $12.1MM in '23/24 and a partially guaranteed $2.85MM ($12.65MM base) in '24/25 — likely cost the Pelicans at least two second-round picks, if not three. Replacing him with Richardson for an extra second or two was a low-risk maneuver.
Richardson is on an expiring $12.2MM contract, making him an unrestricted free agent this offseason. If the Pelicans can bring him back at a similar rate — essentially swapping Graham's salary slot for Richardson — that would be solid value. Letting him walk is also a valid option if they're concerned about the luxury tax going forward.
Richardson has bounced around quite a bit after spending his first four, most successful seasons with Miami, having played for Philadelphia, Dallas, Boston, San Antonio and now New Orleans over the past four seasons.
As is the case with nearly every NBA player outside of the superstars, how a player fits within the dynamic of the rest of the roster largely determines whether he's successful or not. Richardson is a quality role player, but not on every team.
The 29-year-old sometimes gets the generic 3-and-D label, which I think is a little bit of a misnomer in his case.
While Richardson is a solid defensive player, his offensive game is more varied than just spotting up for open threes. He's an erratic outside shooter, converting 36.4% for his career from deep, which is right around league average (35.9% over the same eight seasons). However, he has been as high as 46.1% (on his lowest volume as a rookie), and as low as 33.0% (two separate seasons).
Richardson plays with a lot of energy on both sides of the ball and understands how to optimize spacing offensively. If things look congested on one side of the floor, you will see him flying around to an open area to create more room and better passing angles. 90.5% of his career three-point attempts have been assisted — he's not looking to create his own shot from beyond the arc.
He is a crafty complementary pick-and-roll operator who particularly favors getting his defender on his hip and then stopping and pulling up around 12-to-17 feet. He has been very efficient from mid-range this season, converting 48.5% of those opportunities — that ranks in the 85th percentile, per DunksAndThrees.com.
If the right-handed Richardson gets all the way into the paint, he prefers to finish with his left hand, often using a scoop shot. He will use hesitation moves or his speed to get to the rim during pick-and-rolls.
The eight-year veteran is an unselfish passer and has a soft touch when throwing lobs, though his handle is a little loose at times, which can lead to turnovers. He generally does a solid job of taking care of the ball and making good reads though, especially for a secondary or tertiary ball-handler – his career assist-to-turnover ratio is 1.97-to-1, a respectable mark for a shooting guard.
This season represents the first time in Richardson's career that he's taken more threes than twos, and from an efficiency standpoint you could argue he should have been pushed in that direction sooner, even if he's just an average shooter from long distance. He's also not a great rebounder for a two guard and can struggle with bigger, more physical players on defense, as his frame is relatively thin (he's listed at 200 pounds).
Another weak point is that Richardson will gamble on occasion defensively, reaching instead of using his feet to stick with his opponent. Still, when he's engaged, he's an above-average defender.
Overall, this trade made a lot sense for New Orleans. The Pelicans were able to fill a positional need in the short term and get rid of Graham's contract, which had become problematic given his poor fit and the long-term commitments to other players.
The Spurs' perspective:
Richardson played some of his best basketball since his Miami days with San Antonio, but he's 29 years old and on expiring contract. The Spurs are in the midst of their first rebuild in decades, so extracting value for Richardson was logical.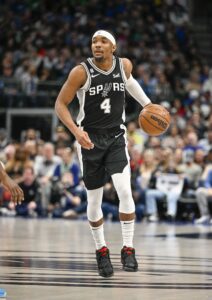 While Graham was redundant on the Pelicans, the Spurs had a glaring need at point guard – Tre Jones is the only other true lead guard on the roster. In fact, Richardson was serving as the backup point at times, and though he did a respectable job, Graham is better suited for the role.
Graham is a good ball-handler and passer. He also takes care of the ball, posting a career 3.09-to-1- assist-to-turnover ratio – 3-to-1 is generally considered a very good benchmark. He is more of a shoot-first point guard who can play off the ball than a traditional pass-first floor general.
This trade is a good example of how statistics can be misleading without context. Richardson is a career 36.4% three-point shooter, while Graham is at 35.7%. On the surface, that seems like Graham is a worse three-point shooter.
Yet if you watch the two play, it would immediately be evident that Graham is a much more dangerous outside shooter. He has taken more than twice as many threes as twos in his career and is able to find shots from long distance in multiple ways.
Graham doesn't hesitate to pull up from deep in transition, and utilizes dribble moves – including side-steps, crossovers and relocation dribbles – to create his own shot. He can shoot on the move coming off screens, in addition to the typical catch-and-shoot threes.
The Spurs rank just 26th in the league in three-point attempts and 25th in the three-point percentage. Graham's shot selection can be a little questionable at times, in my opinion, but his ability to stretch the floor and make good reads while passing adds a different dynamic to their offense.
If the young draft picks on San Antonio's roster can learn from some of Graham's offensive skills, that would be an added bonus. Several of them are still in the early stages of their development.
In 53 games with the Pelicans this season (15.3 MPG), Graham was averaging just 5.3 PPG and 2.2 APG on .368/.347/.746 shooting. In 11 games (28.1 MPG) with the Spurs, he's averaging 15.8 PPG and 4.2 APG on .394/.378/.825 shooting. He's attempting 8.9 threes per game with San Antonio, which is right around what he averaged a few years ago with Charlotte.
Graham is a limited defensive player due to his size and doesn't always give the required effort; the Spurs are dreadful on that end, ranking dead last in the NBA. Still, they're barely better on offense (29th), and I do think Graham is an upgrade over Richardson in that regard. In a vacuum, their values are closer than this trade might make it seem – look how similar their contracts are (Graham makes $11.55MM this season).
Unlike New Orleans, San Antonio has plenty of cap room going forward, so adding Graham's longer-term salary isn't burdensome. He just turned 28 years old and has already showed in his brief stint with the Spurs that he can still play, so trading him in the future for more assets could be an option.
Another aspect of this deal that I found interesting is that both Graham (No. 34 overall in 2018) and Richardson (No. 40 overall in 2015) are examples of successful second-round picks. The Spurs added four second-rounders in this deal while filling a positional need – that's a quality return for a solid role player on an expiring deal.