Spurs guard Devonte' Graham has been suspended without pay for two games by the NBA, the league announced today in a press release (Twitter link).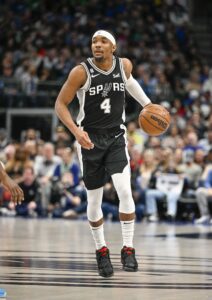 The suspension stems from a 2022 misdemeanor charge of driving while impaired. Graham pleaded guilty to the charge in June and was subsequently sentenced to 12 months of probation, per TMZ Sports.
As TMZ details, Graham was initially charged in July 2022 after police alleged that he was driving 63 miles per hour in a 40 MPH zone while intoxicated in his hometown of Raleigh, North Carolina. The incident occurred at around 3:00 am.
Graham was a member of the Pelicans at the time of his arrest but was traded from New Orleans to San Antonio at the 2023 deadline in a deal involving Josh Richardson. He appeared in a total of 73 games for the two teams last season, averaging 7.4 points and 2.7 assists in 18.3 minutes per night, with a shooting line of .374/.352/.748.
Graham remains under contract with the Spurs on a guaranteed $12.1MM cap hit for 2023/24; his contract also covers '24/25, but only $2.85MM of his $12.65MM salary for that year is guaranteed.
The two-game suspension, which Graham will serve during the first two games of the 2023/24 regular season as long as he's healthy and remains under contract, will cost him $166,897. That figure represents 2/145ths of his $12.1MM salary.
If the Spurs, who are facing a potential roster crunch this fall, waive Graham prior to the season and he doesn't sign a new contract right away, he'll be considered to have served his suspension following San Antonio's third game of the season.