This is the ninth entry in our series breaking down the significant trades of the 2022/23 season. As opposed to giving out grades, this series explores why the teams were motivated to make the moves. Let's dive into the biggest blockbuster of the year, a four-team deal between the Suns, Nets, Bucks and Pacers.
---
Trade details
On February 9:
The Suns acquired Kevin Durant and T.J. Warren.
The Nets acquired Mikal Bridges, Cameron Johnson, the Suns' 2023 first-round pick (unprotected), the Suns' 2025 first-round pick (unprotected), the Suns' 2027 first-round pick (unprotected), the Suns' 2029 first-round pick (unprotected), the right to swap first-round picks with the Suns in 2028, the Bucks' 2028 second-round pick, the Bucks' 2029 second-round pick, and the draft rights to Juan Pablo Vaulet (from Pacers).
The Bucks acquired Jae Crowder.
The Pacers acquired Jordan Nwora, George Hill, Serge Ibaka, a 2023 second-round pick (likely the Cavaliers' second-rounder; from Bucks), the Bucks' 2024 second-round pick, the Pacers' 2025 second-round pick (from Bucks), and cash ($1.36MM; from Nets).
Note: The Bucks acquired the Pacers' 2025 second-round pick in a prior trade.
The Suns' perspective:
After posting a losing record for seven straight seasons – and missing the playoffs for 10 straight – the Suns had a remarkable turnaround in 2020/21, going 51-21 and reaching the NBA Finals, ultimately losing in six games to the Bucks. Last season, the Suns held the league's top record at 64-18, but had a meltdown in their second-round loss to Dallas, getting blown out at home in Game 7.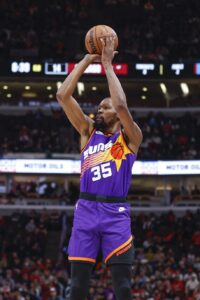 Phoenix was reportedly high on Durant's list of preferred destinations when he requested a trade this past offseason, but there were rumors of low-ball offers from rival teams and Brooklyn was said to be disinterested in obliging his request.
A few weeks later, there were questions about Deandre Ayton's eagerness to be back in Phoenix after he signed a four-year, maximum-salary offer sheet from the Pacers over the summer amid tensions with head coach Monty Williams. The Suns quickly matched, however, signaling they still valued the former first overall pick, even if his role sometimes fluctuates.
In mid-September, former owner Robert Sarver was suspended by the NBA for a year and fined $10MM for workplace misconduct, including racist and misogynistic comments, following a lengthy investigation. He subsequently decided to sell his controlling stake in the franchise to Mat Ishbia, which was finalized shortly before last month's deadline.
Finally, right before training camp opened, Crowder said he wasn't going to participate, as he was reportedly unhappy with Williams after being told he would come off the bench (he had started the previous two years). The Suns then made an announcement saying the two sides would work together to find Crowder a new team.
Despite all the turmoil, '22/23 started out pretty well, with Phoenix going 15-6 over its first 21 games. Unfortunately, Johnson tore his meniscus during that span, and Chris Paul was sidelined by a foot injury until early December. The Suns lost five straight shortly thereafter, with star guard Devin Booker going down with a groin injury in mid-December.
Obviously, Crowder being away while Johnson was hurt didn't help. Torrey Craig did an admirable job filling in, as did Ish Wainright, who was promoted to a standard deal from a two-way contract last month. But ideally, neither player would be logging heavy minutes on a championship-caliber team.
Paul is 37 years old (38 in May), and he is not the same player he was when the Suns made the Finals a couple years ago. He's still good, just not on the same level, particularly from a scoring standpoint. That's a huge deal, because he was Phoenix's second-best player during the previous two seasons.
The Suns reportedly offered up Paul in an effort to land Kyrie Irving from Brooklyn shortly before Durant made his own request. I don't know if those rumors are true, but either way, CP3 stayed put.
By mid-January, the Suns were just 21-24, and the season was slipping away. They recovered well leading up to the trade deadline, going 9-2 over that span to sit with a 30-26 record prior to February 9. Still, the damage had been done. I don't think the Suns make this trade – specifically the way the deal was structured – if they still believed they were a real championship contender without acquiring Durant.
Ishbia played a major role in the deal. Even before he was officially approved by the league's Board of Governors, a report came out saying the Suns were willing to make win-now moves, and he talked about being aggressive just before the deadline. He was also quickly willing to sign off on the extra $40MM the deal cost the Suns in salaries and tax penalties, a stark departure from the previous ownership group.
A report from ESPN indicated that president of basketball operations James Jones wanted to negotiate the inclusion of Bridges or add protections to the first-round picks, but the Nets held firm in their demands. The Suns also may have had another deal lined up for Crowder, but he ultimately was included in this trade as well.
Durant is in the first season of a four-year, $194MM extension. Booker, Durant and Ayton are all under contract through at least '25/26. If healthy, those three alone make up a very strong (and expensive) core. It remains to be seen how long Paul will be around – his $30.8MM contract for next season is guaranteed for $15.8MM, and it is fully non-guaranteed in '24/25.
Durant is one of the greatest players in NBA history. He is a former league MVP, two-time Finals MVP, 13-time All-Star, 10-time All-NBA member and four-time scoring champion.
In 981 career regular season games (36.7 MPG), he has averaged 27.3 PPG, 7.1 RPG, 4.3 APG, 1.1 SPG and 1.1 BPG on .499/.384/.886 shooting. In 155 career playoff games (40.4 MPG), he has averaged 29.4 PPG, 7.8 RPG, 4.1 APG, 1.0 SPG and 1.2 BPG on .476/.356/.866 shooting. He is the definition of a superstar.
Despite being 34 years old and tearing his Achilles tendon four years ago, he continues to play at an incredibly high level. In fact, when healthy, you could easily make a case for Durant being the best player in the league this season.
In 42 games (35.7 MPG), he has averaged 29.5 PPG, 6.8 RPG, 5.2 APG and 1.5 BPG on .566/.386/.931 shooting, good for an absurd .681 true shooting percentage. The FG%, FT% and TS% are all career highs. He is shooting 62.9% on twos, which is ridiculous considering the majority of his shots are mid-range jumpers.
Durant is also playing very motivated and strong defense in '22/23, which surprised me a bit because he had coasted on that end at times the past couple seasons. His teams have gone 29-13 this season when he has played, which is the equivalent of the second-best winning percentage (69.0%) in the league, only trailing the Bucks (71.8%).
Durant can do everything on the court at a high level. He's 6'10" with a 7'5" wingspan, but he possesses guard-like skills, with elite shooting and excellent ball-handling. His passing has improved throughout his career, and when he tries, he is a top-tier defender. He is a matchup nightmare.
After playing in just four games from 2020-22 due to a couple of left foot surgeries, Warren finally returned to the court for the Nets in December, averaging 9.5 PPG and 2.8 RPG on .510/.333/.818 shooting in 26 games (18.8 MPG).
He clearly wasn't at his best physically or from a production standpoint (he averaged a career-high 19.8 PPG on .536/.403/.819 shooting the season before getting injured), but he was still contributing off the bench. Warren has hardly played in his second stint with Phoenix, however, averaging just 6.4 MPG in eight games. He's on a one-year, veteran's minimum contract, so he might not be back next season.
A few weeks after the trade was completed, Ishbia claimed the move carried "no risk." That, of course, isn't true.
Durant has gone down with a sprained MCL a few seasons in a row. You could say that's a fluke, since it has involved players falling into his knee. But that doesn't change the fact that he's played 35, 55 and 42 games over the past three seasons after missing all of '19/20 with a torn Achilles.
His ankle sprain on a routine layup while warming up prior to his fourth game with Phoenix was concerning. I could very well be wrong, but to my eyes, it didn't look like he slipped; it looked like his ankle just gave out and rolled.
Durant is in his 16th season, has made several long playoff runs, and has also played in the World Cup (once) and the Olympics (three times) for Team USA. He's still incredible, but the tread on his tires are pretty worn.
Giving up Bridges and Johnson stings. They were key role players for Phoenix who both improved tremendously throughout their Suns tenures, which we'll get into more shortly.
Anytime you give up an unprotected pick in a future season it's a risk. The Suns gave up three beyond 2023 — four if you count the 2028 pick swap, which will only be exercised if Phoenix is worse than Brooklyn.
Those picks from 2027-29 in particular could be extremely valuable. Durant will be 37 when his contract expires after '25/26. Will he still be playing at this level, and will the Suns want to keep him if he's not?
The Suns knew the risks. But the West is seemingly up for grabs, and they had faltered in their quest to make it back to the Finals.
I can't say adding Durant made Phoenix the favorite in the West, but he nearly carried the Nets to the Finals with both Irving and James Harden injured a couple years ago. If healthy, this team will be extremely dangerous.
---
The Nets' perspective:
The Nets were literally an inch or two away from sending Milwaukee home in Game 7 of their second-round series in 2021, which saw the Bucks prevail in overtime after Durant's foot was on the three-point line on a potential game-winning buzzer-beater. The Bucks went on to win the championship.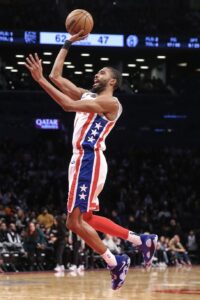 There's an alternate reality where the Nets win the title, and maybe everything is different.
Instead, Harden, Irving and Durant all requested — and were eventually granted — trades.
The Nets are no longer contenders. They have gone 6-10 since the deadline, which is probably worse than I expected, but they did completely remake their team. Adding four players and then immediately inserting them as heavy minutes starters 65% of the way through a season — in the middle of a playoff race — is a pretty rough way to get acclimated.
That said, it's hard to imagine the Nets getting better value than they did for Irving and Durant.
There's no way to get equal short-term value for a player of Durant's caliber. It's not possible. He's too great, and teams that are trying to contend obviously aren't interested in completely mortgaging their present chances.
One of the things I found fascinating about this deal is that it went against conventional thinking. Many league executives believe the offseason is a better time to make a blockbuster deal as opposed to the trade deadline, as more options are available and there are more teams desperate to improve their title chances.
Yet if the rumors of the low-ball offers for Durant in the summer were true, the Suns were far more willing to meet the Nets' demands in February than they were several months ago, and Brooklyn received an extremely valuable package at a time when only one other unprotected first-round pick swapped hands (the Nets received the Mavs' 2029 pick as part of the Irving deal).
The Grizzlies reportedly offered four first-round picks for Bridges alone after this deal was announced. We don't know what the protections might have been on those first-rounders, but it still shows how valued he is by opposing teams.
That value has undoubtedly increased further given the way he has performed since joining the Nets. Through 16 games (34.4 MPG), Bridges is averaging 25.9 PPG, 4.5 RPG, 2.6 APG and 0.9 SPG on .496/.439/.892 shooting (.633 TS%).
There were signs that he was broadening his game this season with Phoenix even before the injuries forced him into a larger role, as he was averaging career highs in PPG (17.2) and APG (3.6) to go along with 4.3 RPG and 1.2 SPG on .463/.387/.897 shooting in 56 games (36.4 MPG). But I doubt even Bridges himself saw this breakout coming.
I've always admired Bridges because he's the rare athlete who not only adds to his game and improves every year, but he also maximizes what he's physically capable of. He has yet to miss a game in his five NBA seasons, a consecutive streak of 381 regular season games (416 including the playoffs).
I will say that expanding his offensive game — and perhaps being worn out from that lengthy streak — has affected his defense. Bridges was the runner-up for Defensive Player of the Year in '21/22, and if I were a voter, I wouldn't have him on either All-Defensive team this year. He still brings a lot of positives, but he hasn't played at the same level on the less glamorous end of the court.
Still, a 26-year-old wing who might be just entering his prime as he potentially develops into a star, on what is turning out to be an extremely team-friendly contract (he's in the first season of a four-year, $90MM extension)? Wow. That's quite a centerpiece.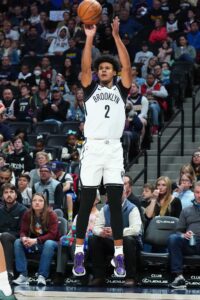 Johnson is a quality player as well. His scoring efficiency has taken a hit (.434/.336/.800; .576 TS%) because the Nets are lacking in the shot-creation department, but he's still averaging career highs in PPG (16.5), RPG (5.0), SPG (1.5) and MPG (31.0) through 15 games with Brooklyn.
He is skinny for a power forward (he's listed at 6'8" and 210 pounds), which can lead to him getting pushed around on the block, and he isn't a great rebounder, but he has a good understanding of positional defense and is an overall solid defender. Like Bridges, he's an unselfish ball-mover who very rarely turns it over.
A strong three-point shooter (39% career) who leverages that ability to drive and finish, the former 11th overall pick will be a restricted free agent in the summer. He just turned 27 earlier this month, so he's theoretically just entering his prime.
I expect the Nets to re-sign him to a deal in the range of what Bridges received after De'Andre Hunter got a similar extension before the season started (I thought Hunter was overpaid given his injury history and inconsistency, but still).
The 2023 first-rounder from Phoenix would currently land at No. 21 overall. That's fine, but that's not really what the Nets were after. As previously mentioned, it's those picks that are several years down the line that hold premium value, as there's no way to predict what the Suns might look like at that point.
The mechanics of this trade were complicated with so many moving parts. Even though on paper it seems like a two-for-two deal, the Nets were able to treat the parts with Phoenix as two non-simultaneous trades.
By rerouting Crowder and taking back only Bridges and Johnson for Durant, the Nets generated two traded player exceptions — one is worth a modest $1,836,090 (Warren's cap hit), but the other is the new largest TPE in the league at $18,131,946. That's the difference in salaries between Durant ($44,119,845) and Bridges ($20,100,000) plus Johnson ($5,887,899).
Flipping Crowder to Milwaukee and then sending three of the five second-rounders to the Pacers also saved the Nets an enormous amount of money toward the luxury tax. In total, this deal cut their tax bill by about $90MM. That's some impressive bookkeeping by Brooklyn's front office, because if you can't legitimately contend, there's no reason to be paying a massive tax bill.
A possible rising star in Bridges, a plus player in Johnson, four unprotected first-rounders, an unprotected pick swap, two second-rounders, and $90MM in tax savings for a 34-year-old generational superstar who has dealt with significant injuries in each of the past four seasons. A pretty impressive haul, even if the Nets could be searching for another player of Durant's caliber for many years.
---
The Bucks' perspective:
I'm going to keep Milwaukee's and Indiana's sides of the deal relatively brief. The Bucks gave up three non-rotation players (one of whom – Nwora – is under contract through next season at $3.2MM) and five second-round picks for a player who started for the team they defeated in the Finals two years ago.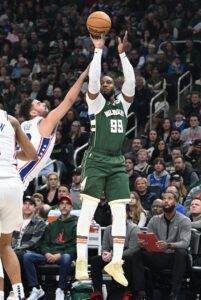 The Bucks had been linked to Crowder for several months, practically as soon as he became publicly available. It was a strange, long, and winding pursuit, but they still ultimately landed him. He later said Milwaukee was his preferred landing spot and that he had no regrets about his lengthy holdout.
Crowder has been a quality 3-and-D forward for several years. He is more of a willing three-pointer shooter than a great one, holding a career mark of 34.7% from deep, but he is a solid defensive player who understands how to play in lots of different schemes.
The 32-year-old is also an underrated passer who rarely turns the ball over – important qualities in a role player. Considering how long he was out, I've been pretty impressed with his play thus far for the Bucks, as he's averaging 6.0 PPG and 4.2 RPG while shooting 39.4% from behind the arc in 11 games (18.7 MPG).
Crowder, who is currently sidelined with a calf injury, is on an $10.18MM expiring contract and will hit unrestricted free agency this summer. The Bucks will have his Bird rights if they want to bring him back.
Five second-round picks seems like a lot for what could be a rental player. But really, only three of those picks have some upside: Indiana's 2025 pick (sent back to the Pacers), and Milwaukee's 2028 and 2029 seconds (to Brooklyn).
The 2023 pick is currently 55th overall (via Cleveland) and the 2024 pick will likely be late in the second round as well. Both of those picks are headed to Indiana. The Bucks can just buy second-rounders in the next couple drafts if they really want to (they control their own this year, currently the last pick), but dealing away several at once did reduce their flexibility for future moves. Still, if Crowder helps them win another ring this season, it will have been well worth it.
---
The Pacers' perspective:
This trade showed the value of a retooling club operating below the salary cap, as the Pacers waited until the last minute to take advantage of their remaining cap room. They were able to take on Nwora (a player they like), Hill (an Indianapolis native) and Ibaka (who was waived), on top of adding three second-rounders, purely from having the roster and financial flexibility to do it.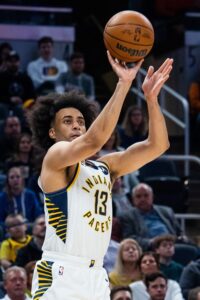 A third-year forward out of Louisville, Nwora showed flashes of upside with Milwaukee, but was unable to carve out a consistent role as a young player on a contending team. The 2020 45th overall pick shot 37.6% from deep in 130 games with the Bucks, but didn't shoot well on twos (43.9%) and struggled at times defensively.
In fairness, it's hard to be consistent in anything when you never know how long you're going to play and one mistake might mean you're benched. That's not a knock against Nwora or the Bucks — it's just the reality of a young player trying to learn on the fly for a championship contender.
The 24-year-old has played quite well thus far for the Pacers, averaging 12.1 PPG, 4.5 RPG and 2.4 APG on .480/.426/.632 shooting through 13 games (22.8 MPG). He has drawn praise from head coach Rick Carlisle, and the Pacers are pretty thin at power forward, so he has a real shot to stick with Indiana. His $3.2MM contract for next season is quite affordable.
Hill, a longtime veteran guard now on his second stint with his hometown team, is on an expiring contract. It remains to be seen if he will find another club next season, but he's had a long, solid career. For now, he's a veteran presence on a retooling team.
Ibaka has yet to find a new team after being released by Indiana, and hasn't been linked anywhere recently to my knowledge either. Unfortunately, the three-time All-Defensive team member hasn't been the same since undergoing back surgery a couple years ago. He's had a terrific career, winning a championship as a key reserve for Toronto in 2019.
The Pacers had to waive James Johnson, who they re-signed after he cleared waivers, and second-year forward Terry Taylor to complete the trade. Taylor had a nice run as a rookie last season, but wasn't playing much this season; he caught on with the Bulls on a two-way deal.
As previously mentioned, a couple of the second-rounders the Pacers received in the deal don't have a lot of value, and it remains to be seen where their own 2025 pick, which they reacquired in this trade, might land. Still, adding Nwora and three second-rounders without giving anything up was a shrewd move by Indiana, as it's essentially found money.