This is the ninth entry in our series breaking down the significant trades of the 2022/23 season. As opposed to giving out grades, this series explores why the teams were motivated to make the moves. Let's dive into the biggest blockbuster of the year, a four-team deal between the Suns, Nets, Bucks and Pacers.
---
Trade details
On February 9:
The Suns acquired Kevin Durant and T.J. Warren.
The Nets acquired Mikal Bridges, Cameron Johnson, the Suns' 2023 first-round pick (unprotected), the Suns' 2025 first-round pick (unprotected), the Suns' 2027 first-round pick (unprotected), the Suns' 2029 first-round pick (unprotected), the right to swap first-round picks with the Suns in 2028, the Bucks' 2028 second-round pick, the Bucks' 2029 second-round pick, and the draft rights to Juan Pablo Vaulet (from Pacers).
The Bucks acquired Jae Crowder.
The Pacers acquired Jordan Nwora, George Hill, Serge Ibaka, a 2023 second-round pick (likely the Cavaliers' second-rounder; from Bucks), the Bucks' 2024 second-round pick, the Pacers' 2025 second-round pick (from Bucks), and cash ($1.36MM; from Nets).
Note: The Bucks acquired the Pacers' 2025 second-round pick in a prior trade.
The Suns' perspective:
After posting a losing record for seven straight seasons – and missing the playoffs for 10 straight – the Suns had a remarkable turnaround in 2020/21, going 51-21 and reaching the NBA Finals, ultimately losing in six games to the Bucks. Last season, the Suns held the league's top record at 64-18, but had a meltdown in their second-round loss to Dallas, getting blown out at home in Game 7.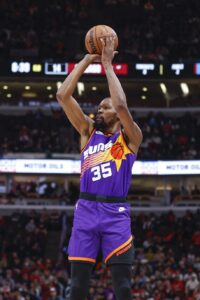 Phoenix was reportedly high on Durant's list of preferred destinations when he requested a trade this past offseason, but there were rumors of low-ball offers from rival teams and Brooklyn was said to be disinterested in obliging his request.
A few weeks later, there were questions about Deandre Ayton's eagerness to be back in Phoenix after he signed a four-year, maximum-salary offer sheet from the Pacers over the summer amid tensions with head coach Monty Williams. The Suns quickly matched, however, signaling they still valued the former first overall pick, even if his role sometimes fluctuates.
In mid-September, former owner Robert Sarver was suspended by the NBA for a year and fined $10MM for workplace misconduct, including racist and misogynistic comments, following a lengthy investigation. He subsequently decided to sell his controlling stake in the franchise to Mat Ishbia, which was finalized shortly before last month's deadline.
Finally, right before training camp opened, Crowder said he wasn't going to participate, as he was reportedly unhappy with Williams after being told he would come off the bench (he had started the previous two years). The Suns then made an announcement saying the two sides would work together to find Crowder a new team.
Despite all the turmoil, '22/23 started out pretty well, with Phoenix going 15-6 over its first 21 games. Unfortunately, Johnson tore his meniscus during that span, and Chris Paul was sidelined by a foot injury until early December. The Suns lost five straight shortly thereafter, with star guard Devin Booker going down with a groin injury in mid-December.
Obviously, Crowder being away while Johnson was hurt didn't help. Torrey Craig did an admirable job filling in, as did Ish Wainright, who was promoted to a standard deal from a two-way contract last month. But ideally, neither player would be logging heavy minutes on a championship-caliber team.
Paul is 37 years old (38 in May), and he is not the same player he was when the Suns made the Finals a couple years ago. He's still good, just not on the same level, particularly from a scoring standpoint. That's a huge deal, because he was Phoenix's second-best player during the previous two seasons.
The Suns reportedly offered up Paul in an effort to land Kyrie Irving from Brooklyn shortly before Durant made his own request. I don't know if those rumors are true, but either way, CP3 stayed put.
By mid-January, the Suns were just 21-24, and the season was slipping away. They recovered well leading up to the trade deadline, going 9-2 over that span to sit with a 30-26 record prior to February 9. Still, the damage had been done. I don't think the Suns make this trade – specifically the way the deal was structured – if they still believed they were a real championship contender without acquiring Durant.
Ishbia played a major role in the deal. Even before he was officially approved by the league's Board of Governors, a report came out saying the Suns were willing to make win-now moves, and he talked about being aggressive just before the deadline. He was also quickly willing to sign off on the extra $40MM the deal cost the Suns in salaries and tax penalties, a stark departure from the previous ownership group.
A report from ESPN indicated that president of basketball operations James Jones wanted to negotiate the inclusion of Bridges or add protections to the first-round picks, but the Nets held firm in their demands. The Suns also may have had another deal lined up for Crowder, but he ultimately was included in this trade as well.
Durant is in the first season of a four-year, $194MM extension. Booker, Durant and Ayton are all under contract through at least '25/26. If healthy, those three alone make up a very strong (and expensive) core. It remains to be seen how long Paul will be around – his $30.8MM contract for next season is guaranteed for $15.8MM, and it is fully non-guaranteed in '24/25.
Durant is one of the greatest players in NBA history. He is a former league MVP, two-time Finals MVP, 13-time All-Star, 10-time All-NBA member and four-time scoring champion.
In 981 career regular season games (36.7 MPG), he has averaged 27.3 PPG, 7.1 RPG, 4.3 APG, 1.1 SPG and 1.1 BPG on .499/.384/.886 shooting. In 155 career playoff games (40.4 MPG), he has averaged 29.4 PPG, 7.8 RPG, 4.1 APG, 1.0 SPG and 1.2 BPG on .476/.356/.866 shooting. He is the definition of a superstar.
Despite being 34 years old and tearing his Achilles tendon four years ago, he continues to play at an incredibly high level. In fact, when healthy, you could easily make a case for Durant being the best player in the league this season.
In 42 games (35.7 MPG), he has averaged 29.5 PPG, 6.8 RPG, 5.2 APG and 1.5 BPG on .566/.386/.931 shooting, good for an absurd .681 true shooting percentage. The FG%, FT% and TS% are all career highs. He is shooting 62.9% on twos, which is ridiculous considering the majority of his shots are mid-range jumpers.
Durant is also playing very motivated and strong defense in '22/23, which surprised me a bit because he had coasted on that end at times the past couple seasons. His teams have gone 29-13 this season when he has played, which is the equivalent of the second-best winning percentage (69.0%) in the league, only trailing the Bucks (71.8%).
Durant can do everything on the court at a high level. He's 6'10" with a 7'5" wingspan, but he possesses guard-like skills, with elite shooting and excellent ball-handling. His passing has improved throughout his career, and when he tries, he is a top-tier defender. He is a matchup nightmare.
After playing in just four games from 2020-22 due to a couple of left foot surgeries, Warren finally returned to the court for the Nets in December, averaging 9.5 PPG and 2.8 RPG on .510/.333/.818 shooting in 26 games (18.8 MPG).
He clearly wasn't at his best physically or from a production standpoint (he averaged a career-high 19.8 PPG on .536/.403/.819 shooting the season before getting injured), but he was still contributing off the bench. Warren has hardly played in his second stint with Phoenix, however, averaging just 6.4 MPG in eight games. He's on a one-year, veteran's minimum contract, so he might not be back next season.
A few weeks after the trade was completed, Ishbia claimed the move carried "no risk." That, of course, isn't true.
Durant has gone down with a sprained MCL a few seasons in a row. You could say that's a fluke, since it has involved players falling into his knee. But that doesn't change the fact that he's played 35, 55 and 42 games over the past three seasons after missing all of '19/20 with a torn Achilles.
His ankle sprain on a routine layup while warming up prior to his fourth game with Phoenix was concerning. I could very well be wrong, but to my eyes, it didn't look like he slipped; it looked like his ankle just gave out and rolled.
Durant is in his 16th season, has made several long playoff runs, and has also played in the World Cup (once) and the Olympics (three times) for Team USA. He's still incredible, but the tread on his tires are pretty worn.
Giving up Bridges and Johnson stings. They were key role players for Phoenix who both improved tremendously throughout their Suns tenures, which we'll get into more shortly.
Anytime you give up an unprotected pick in a future season it's a risk. The Suns gave up three beyond 2023 — four if you count the 2028 pick swap, which will only be exercised if Phoenix is worse than Brooklyn.
Those picks from 2027-29 in particular could be extremely valuable. Durant will be 37 when his contract expires after '25/26. Will he still be playing at this level, and will the Suns want to keep him if he's not?
The Suns knew the risks. But the West is seemingly up for grabs, and they had faltered in their quest to make it back to the Finals.
I can't say adding Durant made Phoenix the favorite in the West, but he nearly carried the Nets to the Finals with both Irving and James Harden injured a couple years ago. If healthy, this team will be extremely dangerous.
---
The Nets' perspective:
The Nets were literally an inch or two away from sending Milwaukee home in Game 7 of their second-round series in 2021, which saw the Bucks prevail in overtime after Durant's foot was on the three-point line on a potential game-winning buzzer-beater. The Bucks went on to win the championship.