MARCH 28: Lillard will be shut down for the rest of the season, sources tell Chris Haynes of TNT and Bleacher Report (Twitter link). In an article for the Athletic, Charania says he expects "serious conversations" between Lillard and the Blazers about what's next for the two sides.
---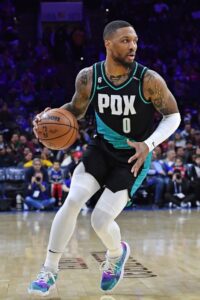 MARCH 25: All-Star guard Damian Lillard may be shut down for the rest of the regular season, tweets Shams Charania of The Athletic. Sources tell Charania that the Trail Blazers are leaning toward ending the season for Lillard, who missed Friday night's game with tightness in his right calf.
Portland has been in the midst of a tight Western Conference playoff race for most of the season, but a recent downturn has dropped the team into 13th place. The Blazers have lost seven of their last 10 games — including a 28-point defeat against the Bulls Friday night with Lillard, Jusuf Nurkic, Jerami Grant and Anfernee Simons all sidelined — to fall to 32-41, three-and-a-half games out of the 10th spot.
Lillard is having one of his best seasons at age 32, averaging a career-high 32.2 points per night in 58 games, along with 7.3 assists and 4.8 rebounds. He bounced back from core surgery that limited him to 29 games last season and earned his seventh career All-Star appearance.
Although Portland is sliding out of the postseason battle, the team is moving up in the race for a high lottery selection. The Blazers currently own the league's sixth-worst record and are just a game-and-a-half away from Orlando for the fifth-best lottery odds.
A decision to shut down Lillard, and possibly hold out some of the other rotation members, could have a significant impact on the Western Conference playoff picture. Portland will host the Thunder and Pelicans Sunday and Monday and then has two home games with the Kings to wind up the month. The Blazers will also face the Timberwolves, Grizzlies and Clippers before the season ends.