Celtics reserve combo guard Malcolm Brogdon has been named the NBA's Sixth Man of the Year for 2022/23, the league announced on Thursday (Twitter link).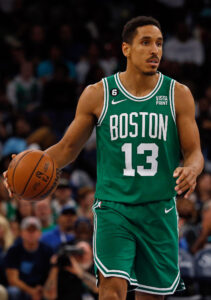 In his first season with the Celtics following a 2022 trade from Indiana, Brogdon averaged 14.9 PPG on .484/.444/.870 shooting splits. Across 67 games, the 6'5″ guard also chipped in 4.2 RPG, 3.7 APG and 0.7 SPG, and was a critical component on both sides of the ball during Boston's 57-25 season.
Brogdon is the first Celtic to win the honor since eventual Hall of Fame center Bill Walton did so for the 1986 title team, tweets Jared Weiss of The Athletic. Brogdon's Celtics are currently leading the Hawks 2-0 in their ongoing first-round playoff series.
As the NBA announced last week, the three finalists for the honor were Brogdon, Bucks backup big man Bobby Portis, and Knicks guard Immanuel Quickley. Each would have been a first-time winner.
According to the NBA, Quickley was the runner-up in Sixth Man voting over Portis, Clippers guard Norman Powell and Kings guard Malik Monk. Brogdon received 60 first-place votes and 408 overall points, while Quickley got 34 first-place votes and 326 points. Portis earned the remaining six first-place votes and 97 points.
A total of 10 players earned at least one vote.
Earlier this week, All-Star Grizzlies power forward/center Jaren Jackson Jr. was named the league's Defensive Player of the Year, All-Star Kings point guard De'Aaron Fox was honored as the NBA's first-ever Clutch Player of the Year, and his Sacramento head coach Mike Brown won his second Coach of the Year award.
A global panel of sportswriters and broadcasters voted on all of this season's awards recipients. The Rookie of the Year, MVP and Executive of the Year have yet to be named.