APRIL 1: Popovich, Wade, Nowitzki, Gasol, Parker, and Hammon have officially been announced as Hall of Famers. In addition to those previously reported names, the following inductees will join them:
Gene Bess: Longtime head coach at Three Rivers Community College who won two NJCAA national championships and won a record 1,300 games.
Gary Blair: Longtime women's basketball head coach at Texas A&M, Arkansas, and Stephen F. Austin who won a national championship in 2011 and was inducted into the Women's Basketball Hall of Fame in 2013.
David Hixon: Longtime Amherst College head coach who won a pair of Division III national championships and was twice named the D-III Coach of the Year
Gene Keady: Longtime Purdue head coach who appeared in 17 NCAA tournaments and was named Big Ten Coach of the Year seven times.
The Hall of Fame is also recognizing Jim Valvano, the late NCAA broadcaster who created The V Foundation for Cancer Research, and the 1976 Olympic U.S. women's basketball team (Twitter links).
This year's class will formally be enshrined in the Hall of Fame on the weekend of August 11-12 in Springfield, Mass.
---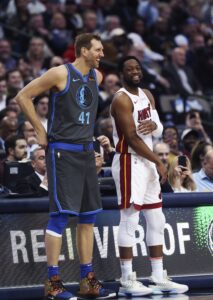 MARCH 28: Spurs head coach Gregg Popovich, Dwyane Wade, Dirk Nowitzki, Pau Gasol, Tony Parker and Becky Hammon have been inducted to the Naismith Memorial Basketball Hall of Fame, according to Adrian Wojnarowski of ESPN.
All six were finalists of the 2023 class, and a formal announcement of all the inductees will take place on Saturday morning at the NCAA Men's Final Four.
Popovich, the NBA's all-time leader in wins for a head coach, has won five championships, all with San Antonio. The 74-year-old is in his 27th season as the lead coach of the Spurs, compiling a 1363-757 record to this point, good for a 64.3 winning percentage. In 284 postseason games, his teams have gone 170-114 — a 59.9 winning percentage.
A three-time Coach of the Year, Popovich is the longest tenured active coach in the league. He led Team USA to a gold medal at the Tokyo Olympics.
Popovich was actually eligible to be inducted years ago but didn't want to be considered until his longtime point guard Parker was eligible after Tim Duncan and Manu Ginobili were previously inducted into the Hall of Fame.
Nowitzki spent his entire 21-year career with the Mavericks, winning the team's lone championship in 2011 en route to Finals MVP. He earned numerous accolades during his career, including being named the league's 2006/07 MVP. The German big man was also 14-time All-Star and 12-time All-NBA member.
Wade, a shooting guard, was a 13-time All-Star, eight-time All-NBA member, and three-time NBA champion with the Heat. He was named Finals MVP in 2006 and spent the bulk of his career with Miami. Wade is currently a part owner of the Jazz.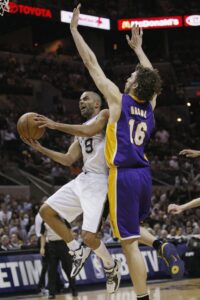 Parker, a point guard, spent his first 17 seasons with the Spurs before surprisingly signing one-year contract to finish his career with Charlotte. He was a six-time All-Star, four-time All-NBA member, four-time NBA champion and 2007 Finals MVP.
Gasol, a forward/center, was a six-time All-Star, four-time All-NBA member, two-time NBA champion with the Lakers and was the '01/02 Rookie of the Year. He also had a storied international career with the Spanish national team, winning a couple of Olympic silver medals and several medals during World Cup and EuroBasket compeitions.
Hammon was a six-time WNBA All-Star and two-time first-team All-WNBA member. The former guard won an Olympic gold medal in 1998 with the U.S. national team.
Hammon was a Spurs assistant for parts of eight seasons, becoming the first female acting head coach in NBA history when Popovich was ejected from a game in December 2020. She departed San Antonio when she was named head coach of the WNBA's Las Vegas Aces, becoming the first rookie head coach to win a championship last season.