The Rockets have officially signed free agent center Willie Cauley-Stein, the team announced today (via Twitter).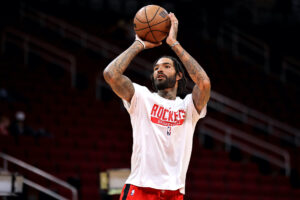 Houston's announcement doesn't include any details on Cauley-Stein's contract, so it's unclear if it extends beyond this season at all or if it's essentially just a one-day deal.
Cauley-Stein and the Rockets agreed to a one-year contract last offseason, but the big man's salary was non-guaranteed and he was waived at the end of the preseason. He later rejoined the team on a 10-day deal near the end of February but has been an NBA free agent since that contract expired.
Cauley-Stein spent much of the season with the Rio Grande Valley Vipers, Houston's G League affiliate. In 13 NBAGL regular season games, he averaged 8.8 points, 5.7 rebounds, 2.4 assists, and 1.5 blocks in 27.0 minutes per night. He also contributed 6.0 PPG, 6.4 RPG, 2.4 APG, and 1.0 BPG in 16 Showcase Cup contests (24.2 MPG).
The sixth overall pick in the 2015 draft, Cauley-Stein has appeared in 422 total regular season games for the Kings, Mavericks, Warriors, and Sixers, but is a borderline NBA player at this point, as his game isn't an ideal fit for the league's current style.
The Rockets were one of three NBA teams that entered Sunday with an open 15-man roster spot, so no one needed to be waived in order to make room for Cauley-Stein.