There is already proof of concept that Milwaukee's core roster is a championship-caliber group, given that the team won the title two years ago. However, the past two seasons have ended in disappointment, with exits in the second and first round of the playoffs, respectively.
The Bucks were considered the favorites to win the championship again in '22/23 after posting a league-high 58 wins and entering the Eastern Conference playoffs as the top overall seed. Instead, they lost a five-game first-round series against No. 8 Miami in embarrassing fashion, blowing double-digit fourth-quarter leads in Games 4 and 5 after Giannis Antetokounmpo returned from a back injury.
Obviously, the two-time MVP missing two games — and most of a third — had an impact on the series. Antetokounmpo looked less than 100 percent once he did return. Still, the Heat were clearly the better, more composed team when it mattered most.
An injury to a key player was a major factor in Milwaukee's 2022 playoff ouster too, as three-time All-Star Khris Middleton missed last spring's entire seven-game series against Boston. But health luck always plays an important role in the championship race, and the Bucks had the third-most expensive roster in the NBA in '22/23, with a projected tax payment of nearly $84MM, per Eric Pincus. Championships and pricey payrolls lead to high expectations, which is why head coach Mike Budenholzer was fired after five seasons at the helm.
While Antetokounmpo is only 28 years old and has shown no signs of slowing down from a production standpoint, his very physical playing style has contributed to him appearing in between 61 and 67 regular seasons games over the past four years. Figuring out the best way to optimize his prime with a newly restrictive Collective Bargaining Agreement about to kick in is the biggest challenge the Bucks face going forward.
---
The Bucks' Offseason Plan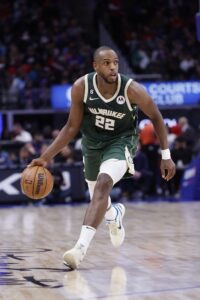 The first order of business for Milwaukee this offseason has reportedly already been decided — Raptors assistant Adrian Griffin will be the new head coach after the Bucks interviewed a lengthy list of candidates. Antetokounmpo was said to be "intrigued" by Griffin and endorsed the former NBA wing, who doesn't have head coaching experience but had an impressive interview.
Now that the coaching search is complete, the two most immediate concerns for the Bucks are figuring out what Middleton is going to do with his $40.4MM player option and working out a new contract with center Brook Lopez, who is an unrestricted free agent. The priority will likely be bringing back both players, since they don't have a reasonable way to replace two of the top potential free agents on the market.
Let's say Middleton picks up the option and the Bucks either extend or re-sign Lopez to a new deal with a starting value of $15MM in 2023/24. That would put Milwaukee's payroll at $172.8MM with only eight players signed to standard contracts. The projected luxury tax line is $162MM.
In that scenario, even if the Bucks signed six players on minimum contracts to fill out the roster at an average of $2MM each (about the projection for a veteran with two years of experience), their payroll would be $184.8MM, which would be nearly $23MM over the tax line.
In the new CBA, which will kick in starting July 1, the NBA will implement a second tax apron that will be $17.5MM above the tax line. The second apron is essentially a pseudo-hard cap, because it is very punitive to the league's biggest spenders.
Teams above the second apron will lose access to the taxpayer mid-level exception — the Bucks would have been ineligible to sign Joe Ingles with their taxpayer MLE last summer had the rule been in effect. There are several other prohibitive restrictions that will reportedly be phased in over the next two seasons — the full list can be found right here.
There are ways the Bucks could still avoid the apron. If Middleton is open to a new long-term contract with a lower starting value in '23/24, that could help. Trading one of their mid-sized contracts (Bobby Portis, Pat Connaughton, Grayson Allen) would be an option.
Allen, who has averaged 10.4 PPG, 3.1 RPG and 1.9 APG on .441/.401/.881 shooting over the past four seasons with the Grizzlies and Bucks, seems like the most likely to be on the move, considering he was involved in plenty of trade rumors in '22/23 and his contract will be expiring.
While it is absolutely beneficial to avoid the second tax apron long term, there's nothing preventing the Bucks from re-signing their own free agents this offseason if ownership is still willing to foot the bill.
In addition to Lopez and Middleton, who was limited to 33 regular season games but had a strong playoff showing, guard Jevon Carter could become a free agent if he declines his $2.2MM player option in search of a pay raise, and Ingles, Jae Crowder, Thanasis Antetokounmpo, Goran Dragic, Meyers Leonard and Wesley Matthews are all unrestricted FAs. That's nine possible free agents. Needless to say, there could be roster turnover, even if it's at the back end.
Although it might seem counterintuitive based on how the luxury tax works (increasing penalties), if the Bucks do bring back some of their free agents, they would actually be better off signing a few of them to deals above the minimum — if given permission from ownership. That would create more mid-sized contracts that could possibly be used as salary ballast in future trades, since the Bucks are unlikely to move any of their expensive core (Giannis, Middleton, Jrue Holiday). That's assuming, of course, Middleton returns, which I do think is very likely — he and Giannis are the longest-tenured members of the team and have been instrumental in building the Bucks' winning culture.
The Bucks only control one draft pick in 2023 — No. 58 overall, the final pick of the second round — and only have one tradable first-rounder (2029) due to obligations from other deals. They've also traded away five of their next six second-rounders after this season. As such, their movable draft equity is very limited for the time being.
---
Salary Cap Situation
Guaranteed Salary
Giannis Antetokounmpo ($45,640,084)
Jrue Holiday ($36,861,707)
Bobby Portis ($11,710,818)
Pat Connaughton ($9,423,869)
Grayson Allen ($8,925,000)
MarJon Beauchamp ($2,609,400)
Lindell Wigginton (two-way)
Total: $115,170,878

Dead/Retained Salary
Player Options
Team Options
Non-Guaranteed Salary
Restricted Free Agents
Two-Way Free Agents
Draft Picks
No. 58 overall (no cap hold)
Extension-Eligible Players
Grayson Allen (veteran)
Giannis Antetokounmpo (veteran)
Jae Crowder (veteran)
Brook Lopez (veteran)
Khris Middleton (veteran)
Note: These are players who are either already eligible for an extension or will become eligible before the 2023/24 season begins. Crowder and Lopez are only eligible until June 30.

Unrestricted Free Agents / Other Cap Holds
Brook Lopez ($20,860,464 cap hold): Bird rights
Jae Crowder ($19,349,220 cap hold): Bird rights
Joe Ingles ($7,774,800 cap hold): Non-Bird rights
Thanasis Antetokounmpo ($1,989,698 cap hold): Bird rights
Goran Dragic ($1,989,698 cap hold): Non-Bird rights
Meyers Leonard ($1,989,698 cap hold): Non-Bird rights
Wesley Matthews ($1,989,698 cap hold): Early Bird rights
Jeff Teague ($1,989,698 cap hold): Non-Bird rights
Total: $57,932,974
Note: The cap hold for Teague remains on the Bucks' books from a prior season because it hasn't been renounced. He can't be used in a sign-and-trade deal.
Cap Exceptions Available
Taxpayer mid-level exception: $5,000,000
Note: The Bucks would gain access to the full mid-level exception and the bi-annual exception if their team salary remains below the tax apron. If their team salary exceeds the second tax apron, they would lose access to any form of the mid-level exception.