The Wizards haven't had a 50-win season since 1978/79, when they lost in the NBA Finals after winning the title the year before. In fact, they've only won more than 45 games twice over the lengthy period since then — both in the mid-2010s when John Wall-led teams made the Eastern Conference Semifinals a few times.
Things went about as expected in '22/23. Washington's over/under entering the season was 35.5 wins, and the team won exactly 35 for the second consecutive season.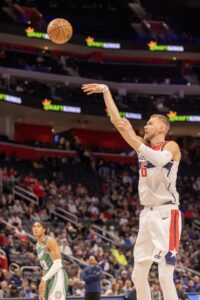 There were some positive developments — Kyle Kuzma and Kristaps Porzingis had career years, while Corey Kispert turned into a solid rotation player in year two — but they were mostly offset by disappointments in other areas. Bradley Beal was plagued by injuries for the second straight season and lottery pick Johnny Davis spent most of his rookie season in the G League, struggling when he did get NBA minutes.
The Wizards, who finished 22nd in the league in offense and 21st in defense, don't really have an identity on either end of the court (they were 21st in offense and 25th in defense in '21/22).
Where the Wizards go from here is an open question. They don't have the types of young players teams typically build around, nor the cache of future draft picks (they actually owe a protected first to the Knicks). Getting lucky in the draft lottery would be a good start – the Wizards have the eighth-best odds at landing the No. 1 overall pick and a 28.9% chance at a top-four selection.
---
The Wizards' Offseason Plan:
What many league observers think the Wizards should do and what they actually do are often at odds. Maybe that will change when the team hires a new head of basketball operations after firing Tommy Sheppard.
Either way, it's an important offseason for the Wizards. Kuzma has already said he plans to turn down his $13MM player option to secure a larger payday. Will Porzingis decline his $36MM option as well? Perhaps. There were reportedly "serious" talks regarding an extension a couple months ago, but that was before the front office change. It's impossible to know how a new regime would feel about that.
Porzingis had an outstanding season, making a positive impact on both sides of the ball. He's only 27 years old, so he's theoretically in his prime. He has also missed extended time due to injuries throughout his career. Re-signing him is a risk, but Washington doesn't have a ready-made replacement on its roster.
If both players decline their options and the Wizards renounce their other free agents and cap holds (except their first-round pick), they'd have about $30MM in cap room to work with. I don't see which players they could target with that money that would be better than Kuzma and Porzingis. A sign-and-trade involving one (or both) theoretically could work if Washington wants reshuffle the deck.
Former first-round pick Deni Avdija will be eligible for a rookie scale extension as well. He has a good feel for the game and is a solid defender, but his jump shot is very erratic. Trading Rui Hachimura freed up playing time for Avdija, and he played well down the stretch. Still, it's hard to envision any rush to extend him unless it's a team-friendly rate.
Perhaps the biggest question facing the Wizards hasn't changed: Is Beal a star worth building around? There are multiple seasons worth of evidence indicating the answer is no.
The issue is that he's coming off two injury-riddled seasons and still has four years and more than $200MM left on his contract — his value is arguably at its lowest point in years. Washington would likely get pennies on the dollar in return for the veteran guard unless they find a team that thinks Beal would push it over the hump.
Would Philadelphia be interested in a Beal for Tyrese Maxey and Tobias Harris trade? Harris' deal is expiring and Maxey is going to command a significant payday soon, as he's about to enter the final season of his rookie deal. Is that enough of a return for Beal?
For some inexplicable reason, the Wizards gave Beal a full no-trade clause when he signed his contract last summer, a rarity in the NBA. So even if they find a suitable deal, he'd still have to approve it.
Locking in an expensive long-term core of Beal, Kuzma and Porzingis isn't going to move the needle toward winning in any meaningful way. They're all good players individually, but not good enough to be a top-three trio on a serious contender.
There are players with positive value on the roster, though they're not going to return a haul of assets. Monte Morris and Delon Wright are quality backups that lots of teams would like to have, for example, and they're entering the final years of their contracts.
There are no easy answers for this team. Owner Ted Leonsis hasn't shown any appetite for a temporary tank despite the mediocre product of the past handful of years. The foundation is rickety, and the Wizards haven't had success drafting in the 9-15 range over that span.
I don't envy the person who takes over the front office of this franchise. Things can change quickly in the NBA, but it's hard to see how the Wizards get significantly better without getting even worse than they have been lately.
---
Salary Cap Situation
Guaranteed Salary
Bradley Beal ($46,741,590)
Daniel Gafford ($12,402,000)
Monte Morris ($9,800,926)
Delon Wright ($8,195,122)
Deni Avdija ($6,263,188)
Johnny Davis ($5,050,800)
Corey Kispert ($3,722,040)
Anthony Gill ($1,997,238)
Isaiah Todd ($1,836,090)
Xavier Cooks ($1,719,864)
Jordan Goodwin ($300,000)

Note: Partial guarantee. Rest of salary noted below.

Quenton Jackson (two-way)
Total: $98,028,858
Dead/Retained Salary
Player Options
Team Options
Non-Guaranteed Salary
Jordan Goodwin ($1,627,896)

Note: Partial guarantee. Goodwin's partial guarantee increases to $963,948 if he isn't waived on or before September 1.

Total: $1,627,896
Restricted Free Agents
Two-Way Free Agents
Draft Picks
No. 8 overall ($5,969,400)

Note: This is only a placeholder until the draft order is determined via the lottery.

No. 42 overall (no cap hold)

Note: This pick would move to No. 41 if the Thunder end up with a higher first-round pick than the Bulls via the lottery.

No. 57 overall (no cap hold)
Total: $5,969,400
Extension-Eligible Players
Kristaps Porzingis (veteran)
Kyle Kuzma (veteran)
Monte Morris (veteran)
Isaiah Todd (veteran)
Deni Avdija (rookie scale)
Note: These are players who are either already eligible for an extension or will become eligible before the 2023/24 season begins.

Unrestricted Free Agents / Other Cap Holds
Ian Mahinmi ($23,175,077 cap hold): Bird rights
Kendrick Nunn ($6,825,000 cap hold): Early Bird rights
Taj Gibson ($1,989,698 cap hold): Non-Bird rights
Ty Lawson ($1,989,698 cap hold): Non-Bird rights

Shabazz Napier ($1,989,698 cap hold): Early Bird rights

Tomas Satoransky ($1,989,698 cap hold): Non-Bird rights

Ramon Sessions ($1,989,698 cap hold): Non-Bird rights

Johnathan Williams ($1,774,999 cap hold): Non-Bird rights

Cassius Winston ($1,774,999 cap hold): Early Bird rights
Total: $43,498,565
Note: The cap holds for the players in italics remain on the Wizards' books from prior seasons because they haven't been renounced. They can't be used in a sign-and-trade deal.
Cap Exceptions Available
Mid-level exception: $12,220,600
Bi-annual exception: $4,448,000
Trade exception: $6,263,188
Note: The Wizards would lose access to the full mid-level exception and the bi-annual exception if their team salary surpasses the tax apron. If the Wizards go under the cap to use room, they'll lose access to all of these exceptions and will gain access to the room exception.