Carmelo Anthony has retired from the NBA after 19 seasons, making the announcement on Monday in a video (Twitter link).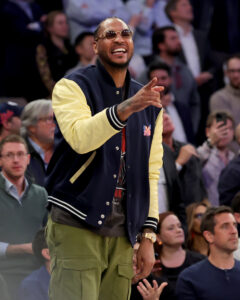 The 38-year-old forward was a 10-time All-Star and a member of the NBA's 75th Anniversary Team. He ranks ninth on the career scoring list with 28,289 points in 1,260 career games with the Nuggets, Knicks, Thunder, Rockets, Trail Blazers and Lakers.
"Now the time has come for me to say goodbye," Anthony said in the video. "To the court where I made my name, to the game that gave me purpose and pride."
Anthony remained unsigned this season after averaging 13.3 PPG in 69 games with L.A. in 2021/22. There was a rumor in February that Kevin Durant and Chris Paul might lobby the Suns to add him as a veteran off the bench, but nothing was ever worked out. He also reportedly drew interest from teams in Taiwan last November, but wasn't willing to play there.
The Hall of Fame will likely be the next stop for Anthony, who was selected with the third pick by Denver in the 2003 draft after winning a national championship in his lone season at Syracuse. He played eight seasons with the Nuggets before moving on to New York, where he captured the league's scoring title in 2013.
In addition to his NBA accomplishments, Anthony leaves behind a strong legacy in international competition. He appeared in four Olympics, winning three gold medals and a bronze, and represented Team USA in the World Championship and Americas Championship as well.
Anthony will serve as one of three global ambassadors for this year's FIBA World Cup.