Following the Lakers' elimination from the 2023 playoffs on Monday night, superstar forward LeBron James is contemplating the possibility of retirement, league sources tell Chris Haynes of Bleacher Report.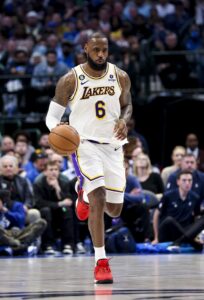 During his postgame media session, James cryptically told reporters that he has "a lot to think about" this offseason (Twitter link via Jovan Buha of The Athletic). Haynes subsequently reported that LeBron is mulling retirement, which the 38-year-old himself confirmed to Dave McMenamin of ESPN.
James told McMenamin that he has to consider "if I want to continue to play." Pressed on whether he'd really retire at this point, LeBron replied, "I got to think about it."
A 19-time All-Star, James put up his usual huge numbers during the 2022/23 season, averaging 28.9 points, 8.3 rebounds, and 6.8 assists per game in 55 appearances (35.5 MPG) while shooting 50.0% from the field.
He missed time and was affected in the second half by a torn tendon in his right foot, but still appeared in all 15 of the Lakers' games in the postseason, averaging 23.5 PPG, 9.9 RPG, and 6.3 APG. The team's season came to an end in the Western Conference Finals, where the Nuggets completed a 4-0 sweep.
As he weighs his future following a postseason that McMenamin describes as "taxing," James will have to consider next steps for that foot injury. Asked if it might require offseason surgery, LeBron didn't rule out the possibility, telling ESPN that he'll undergo an MRI to see how his tendon has healed.
Regardless of whether or not surgery is required, James believes he would be able to get back to his usual All-NBA level with a full summer of rehab work.
"Because I'm still better than 90% of the NBA," he said. "Maybe 95."
James has at least one year and $46.7MM remaining on his contract with the Lakers, with a $50.4MM player option for the 2024/25 season. He has spoken in the past about wanting to remain in the NBA until at least '24/25, when his son Bronny James will be eligible to enter the league. LeBron has repeatedly expressed a desire to play with Bronny, so Monday's comments represent a potential change in direction.
When informed of James' comments after Monday's loss, Anthony Davis was initially surprised, according to McMenamin, but then recalled a prior conversation he had with his superstar teammate. According to Davis, when the two Lakers forwards were talking about possibly playing in the 2024 Paris Olympics, LeBron told AD that he may have already retired by that point.
For what it's worth, one person familiar with James' thinking who spoke to Mark Medina of The Sporting Tribune is skeptical that the future Hall of Famer will really retire this offseason.
Multiple theories are already emerging among NBA writers, with James L. Edwards III of The Athletic (Twitter link) among those to speculate that LeBron could sit one season before returning to play with Bronny in 2024.
Kevin O'Connor of The Ringer (Twitter link) wonders if James' comments are – at least in part – a negotiating tactic to push the Lakers further all-in on next year's roster. Currently, only James, Davis, and Max Christie have guaranteed contracts, so many offseason moves would be necessary to fill out the supporting cast. One path the franchise could consider revisiting, O'Connor observes, is its pursuit of LeBron's former teammate Kyrie Irving, who will be a free agent.
While it would be a surprise if James ultimately decides to hang up his sneakers this summer, his remarks on Monday ensure that it will be one of the biggest question marks hanging over the NBA's offseason until he makes a decision one way or the other.