Celtics guard Malcolm Brogdon has been playing through a significant injury, as he suffered a partially torn tendon in his right elbow during Game 1 of the Eastern Conference Finals, reports Jared Weiss of The Athletic.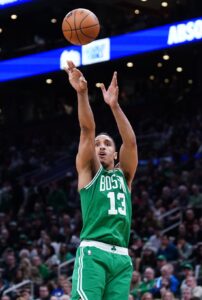 Sources tell Weiss that Brogdon was initially dealing with a sore elbow during Boston's second-round series against Philadelphia, but it got worse when he tore the tendon boxing out Kevin Love in the first quarter of Game 1 vs Miami. An MRI confirmed the injury.
According to Weiss, Brodgon has been dealing with "pain and swelling in his arm and wrist," affecting his ability to shoot comfortably. Weiss points out that Brogdon, the Sixth Man of the Year winner, shot 44.4% from three-point range during the season but is just 3-of-14 during the Miami series, which Boston trails 3-1.
Brogdon has also limited his pregame shooting to mitigate the pain and has been driving more to compensate, per Weiss. The veteran guard is just 1-of-11 for two total points over the past two games, so clearly the injury has been limiting his effectiveness. He had posted solid numbers (14.8 points, 4.1 rebounds, 3.6 assists on .446/.435/.846 shooting) in the 13 playoff games prior to tearing the tendon.
Despite the discomfort, Brogdon plans to keep playing through the injury and will determine whether or not surgery is necessary after the season concludes, sources tell Weiss.