Nuggets center Nikola Jokic was named the Most Valuable Player of the Western Conference Finals after Denver completed its four-game sweep of the Lakers on Monday, the NBA announced (via Twitter).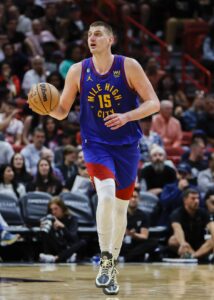 A panel of nine media members voted on the award and Jokic was the unanimous choice, receiving all nine votes (Twitter link).
The decision came as no surprise, given that Jokic continued his historic postseason run in four consecutive victories over the Lakers, registering triple-doubles in three of those four games and averaging 27.8 PPG, 14.5 RPG, and 11.8 APG on .506/.471/.778 shooting.
Over the course of 15 playoff games, including 12 Nuggets wins, Jokic has put up 29.9 PPG, 13.3 RPG, and 10.3 APG with a shooting line of .538/.474/.784.
Jokic is the second player to win the Magic Johnson Trophy as the Western Finals MVP, joining Warriors guard Stephen Curry, who earned the honor in 2022. The NBA introduced the award – along with the Larry Bird Trophy for the Eastern Finals MVP – during the 2022 playoffs.
Asked after Denver's victory about winning the Western Finals MVP award after finishing as the runner-up to Joel Embiid in the regular season MVP voting, Jokic defended the Sixers center, whose team was eliminated in the second round. As Ohm Youngmisuk of ESPN tweets, Jokic said Embiid had an incredible year and deserved MVP honors, adding that people who say Embiid didn't deserve to win it are being "mean."