An odd play late in the second quarter of Sunday's Nuggets-Suns game could swing the outcome of the series, writes Ohm Youngmisuk of ESPN.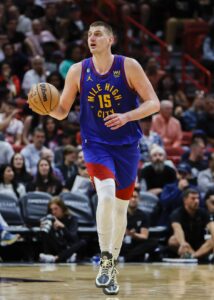 Phoenix guard Josh Okogie dove out of bounds while trying to save the basketball and landed near a courtside seat occupied by team owner Mat Ishbia, who wound up with the ball in his hands. While Ishbia was checking on his player, Nikola Jokic attempted to grab the ball from him to create a potential 5-on-4 advantage for Denver with Okogie still down.
The ball was knocked backward into the crowd, and as Jokic asked another fan to throw it to him, his left forearm made contact with Ishbia's chest, causing him to fall backward into his seat (video link). Jokic was given a technical foul on the play, and although the NBA office didn't comment Sunday night, Youngmisuk said the league will likely review the incident to determine if a fine or suspension is warranted.
"One of the fans (Ishbia) was holding the ball, Jokic came to get the ball, grabbed it away from the fan," referee Tony Brothers said in the pool report after the game. "Then after that, he deliberately gave him a shove and pushed him down, so he was issued an unsportsmanlike technical foul. … There was some engagement, so I deemed the technical foul the appropriate penalty." 
Brothers said Jokic wasn't ejected because he "didn't just run over and hit a fan."
Jokic explained his view of what happened in his post-game meeting with reporters, saying he was trying to get the ball to start the next play. He also didn't seem to realize that it was Ishbia who was holding it.
"(Brothers) told me I was elbowing the fan," Jokic said. "But the fan put the hand on me first. So I thought the league's supposed to protect us or whatever, but maybe I'm wrong, so we will see."
He also questioned why he might be subject to a fine or suspension.
"But his hands (were) on me," Jokic said. "So (the NBA) is not going to protect me? They're going to protect the fan? Not me as a person; I'm talking about as a player."
Ishbia, who finalized his purchase of the team in February, told an Associated Press reporter at halftime that he was "fine," Youngmisuk relays, and he was in his seat when the second half began.
The incident overshadowed another outstanding performance from Jokic, who had a career-high 53 points and 11 assists even though the Suns pulled out a win to knot the series at 2-2. According to Youngmisuk, he's the first player in league history to average a 40-point triple-double while shooting 60% from the floor over two playoff games.
Sam Vecenie of The Athletic blames Ishbia for escalating the incident and says a suspension for Jokic would be an "extreme overreaction" by the NBA. ESPN's Brian Windhorst said he would be "stunned" if Jokic is suspended, adding, "I don't think there's an appetite here for that to happen." (Twitter link)