10:51am: The Sixers have issued a press release confirming the dismissal of Rivers.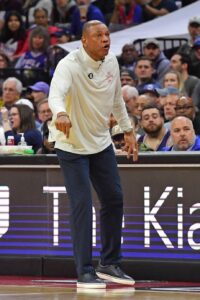 "Doc is one of the most successful coaches in NBA history, a future Hall of Famer, and someone I respect immensely," Morey said in a statement. "We're grateful for all he did in his three seasons here and thank him for the important impact he made on our franchise. After having the chance to reflect upon our season, we decided that certain changes are necessary to further our goals of competing for a championship.""
---
10:16am: The Sixers are parting ways with head coach Doc Rivers, according to ESPN's Adrian Wojnarowski (via Twitter).
Rivers' hold on his job was considered shaky after Philadelphia lost Game 7 of the Eastern Conference Semifinals to Boston on Sunday. A tight game at halftime turned into a blowout Celtics victory after Boston outscored the 76ers by a 33-10 margin in the third quarter.
The loss resulted in the Sixers' third consecutive second-round playoff exit since Rivers was hired in 2020. During that time, the veteran coach led the club to a 154-82 (.653) regular season record but failed to make a deep playoff run. Philadelphia was eliminated by Atlanta in 2021 and Miami in 2022, losing the final game of the series at home in both instances.
Rivers is one of several accomplished head coaches to be let go this spring, joining recent champions and/or Coaches of the Year like Mike Budenholzer, Monty Williams, and Nick Nurse.
As Bobby Marks of ESPN observes (via Twitter), Phoenix, Milwaukee, and Philadelphia lead the NBA in regular season victories since the start of the 2020/21 season, but all three clubs are making head coaching changes this offseason following disappointing postseason showings.
Previous reporting from Michael Scotto of HoopsHype indicated that Williams, Nurse, and Mike D'Antoni would likely be candidates to replace Rivers if the Sixers were to make a change. Wojnarowski confirms those names and adds a few more to Philadelphia's list of potential candidates, tweeting that Budenholzer, Sam Cassell, and Frank Vogel are also expected to factor into the team's search.
Of those six candidates, only Cassell – who is an assistant on Philadelphia's staff – lacks head coaching experience. D'Antoni, Williams, Vogel are all former Sixers assistants, while D'Antoni has a long-standing relationship with president of basketball operations Daryl Morey, having coached the Rockets during Morey's time in Houston.
The decision to dismiss Rivers is the first one in a big offseason for the Sixers. While MVP center Joel Embiid is on a long-term contract, his co-star James Harden will reach free agency if he turns down his 2023/24 player option and has been repeatedly linked to the Rockets. Harden offered Rivers a very lukewarm endorsement following Sunday's loss, so it's possible the 10-time All-Star will be more inclined to remain in Philadelphia under a new head coach.
As for Rivers, it's unclear at this point whether he'll immediately emerge as a candidate to take over as the head coach for another NBA team. There are four clubs besides the Sixers with head coaching vacancies: Milwaukee, Phoenix, Toronto, and Detroit.