The Warriors entered the 2022/23 season as the defending champions, having won their fourth title in eight years last June. However, things quickly went off the rails before the season even started, with Draymond Green punching Jordan Poole during training camp. It was a long, bumpy ride the rest of the way.
A poor start which saw the the Warriors drop seven of their first 10 games – including five straight – certainly didn't help, and every time they reeled off a winning streak, a losing streak quickly followed. The Warriors were within four games of .500 the entire campaign until the very end of the season, when they won their final two games to finish 44-38 and enter the playoffs as the No. 6 seed in the West.
A tight seven-game series with the upstart Kings showed the resiliency of both squads, with Stephen Curry carrying Golden State to a first-round victory with a 50-point performance in Game 7. Untimely shooting slumps and shaky defense played a significant role in the Warriors' semifinal loss to the Lakers — they dropped the series in six games.
With an incredibly accomplished but aging core, the Warriors face perhaps the most critical offseason in team history and certainly the most important during the Curry-Green-Klay Thompson era. Shoring up the team's depth and defense, which dropped from second to 14th over the past two seasons, should be a priority.
---
The Warriors' Offseason Plan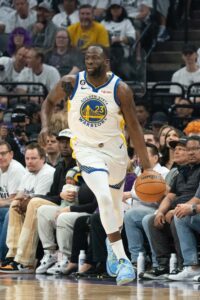 It's not hyperbole to say that no other team in the league will be more affected by the punitive aspects of the new CBA than the Warriors, who have been one of the league's biggest spenders for years. As a repeat taxpayer, they could be facing a $500MM+ payroll (salaries and tax combined) in '23/24 if their current roster remains intact.
Bob Myers stepping down as president of basketball operations was a really big deal. The decision could very well have a downstream effect on the other key figures within the organization. He had great relationships Curry, Thompson, Green and head coach Steve Kerr, and was known as one of the best communicators in the sport.
Green has a $27.6MM player option, which he could decline to enter free agency. Thompson is extension-eligible and entering the final year of his contract. Kerr is entering the final year of his deal as well, with a recent report indicating that he could be looking for a big pay raise after Detroit's Monty Williams became the highest-paid coach in the league.
Although various reports indicated that Mike Dunleavy Jr. might be Myers' eventual successor, owner Joe Lacob stated he's not ready to name a replacement. That leaves the front office in a tenuous position at an extremely important time.
In addition to Green, guard Donte DiVincenzo, who was signed for part of the taxpayer mid-level exception last summer, has a $4.7MM player option of his own. Golden State currently controls the No. 19 pick in the upcoming draft.
If Green and DiVincenzo exercise their options (which is far from a lock — I think DiVincenzo in particular is likely to decline it in search of a raise) and the Warriors keep the pick, they'd be looking at a $213MM+ payroll with 13 players on guaranteed contracts. The luxury tax line is projected to be $162MM, and the highly-restrictive second tax apron kicks in at $179.5MM.
If they stay above the second apron, our current understanding is the Warriors would lose access to the taxpayer MLE, and there are several more roster-building restrictions beyond just that. Most of those changes won't be implemented immediately, but they'll likely all be in effect by the 2024/25 season.
It's essentially a pseudo-hard cap, which will make life difficult for the Warriors' front office. That said, even though the payroll is likely to be massive no matter what happens with Green, the team does have some desirable assets.
For example, Kevon Looney is on an extremely team-friendly contract. But he's also been with the Warriors his entire career, seems to get along well with both the old guard and the young players, and having value contracts is absolutely essential when you have two of the highest-paid players in the league (Curry will have the league's largest cap hit in '23/24; Thompson will be 12th).
Andrew Wiggins is on a relatively team-friendly deal as well, and he would have a long list of suitors if the Warriors made him available. But as with Looney, it would be hard to replace what Wiggins provides, as he was arguably the team's second-best player during the playoff run in 2022.
Curry definitely isn't going anywhere, and I'd be surprised if the Warriors entertain trading Thompson. If I were running the team though, I would seriously consider it. His overall numbers in '22/23 look pretty similar to his career averages, but the major leg injuries he suffered (a torn ACL and a torn Achilles) that caused him to miss two seasons have sapped some of his athleticism, and he isn't nearly the defender he once was. Still, I don't think that's going to happen.
I doubt Gary Payton II will be on the move so soon after the Warriors traded former No. 2 overall pick James Wiseman to reacquire him in February. That leaves the team's young players.
Poole's up-and-down season in many ways was reflective of the Warriors' results as a whole. His relationship with Green — which was reportedly quite good before the punch — definitely seemed strained throughout '22/23, and it's hard to envision that changing. I'm not sure how rival teams would view his contract extension. On one hand, he still showed flashes of promise, and he helped keep the offense afloat when Curry missed extended time with injuries. On the other, Poole's careless turnovers and porous defense can be quite frustrating.
I'm fairly certain that former lottery picks Jonathan Kuminga and Moses Moody would have positive trade value, despite their own inconsistent seasons. They're only 20 and 21 years old, entering their third seasons, and make less than $10MM combined in '23/24. Moody feels a little more likely to stick around after a solid playoff run that saw Kuminga glued to the bench.
Packaging some combination of Poole, Kuminga and the No. 19 overall pick could be an option. But cost-controlled assets like Kuminga and the first-rounder are also really important. If they keep the pick, I wonder if the Warriors will draft a more experienced prospect after going for younger, less NBA-ready players in recent years.
None of the team's impending free agents — including JaMychal Green and Anthony Lamb — are locks to return. Longtime veteran Andre Iguodala has already said he intends to retire.
Despite a disappointing season, I still think Golden State's championship window is open as long as Curry keeps playing at his current level and Green is spearheading the defense. Curry is 35 now and has missed a lot of games over the past handful of seasons, which is troublesome. But he's still capable of being the best player on the court in any game in which he appears, and the Warriors have shown tremendous resiliency over the past decade. It will be fascinating to see how their offseason unfolds.
---
Salary Cap Situation
Guaranteed Salary
Stephen Curry ($51,915,615)
Klay Thompson ($43,219,440)
Jordan Poole ($27,955,357)
Andrew Wiggins ($24,330,357)
Gary Payton II ($8,715,000)
Kevon Looney ($7,500,000)
Jonathan Kuminga ($6,012,840)
Moses Moody ($3,918,480)
Patrick Baldwin ($2,337,720)
Ryan Rollins ($1,719,864)
Total: $177,624,673

Dead/Retained Salary
Player Options
Team Options
Non-Guaranteed Salary
Restricted Free Agents
Note: The cap hold for Mannion remains on the Warriors' books from a prior season because it hasn't been renounced. The team can make him a restricted free agent again by extending another qualifying offer.

Two-Way Free Agents
Draft Picks
No. 19 overall ($3,302,640)
Total: $3,302,640
Extension-Eligible Players
Note: These are players who are either already eligible for an extension or will become eligible before the 2023/24 season begins.

Unrestricted Free Agents / Other Cap Holds
JaMychal Green ($1,989,698 cap hold): Non-Bird rights
Andre Iguodala ($1,989,698 cap hold): Bird rights
Matt Barnes ($1,989,698 cap hold): Non-Bird rights
Nemanja Bjelica ($1,989,698 cap hold): Non-Bird rights
Andrew Bogut ($1,989,698 cap hold): Non-Bird rights
Jonas Jerebko ($1,989,698 cap hold): Non-Bird rights
David West ($1,989,698 cap hold): Early Bird rights
Total: $13,927,886
Note: The cap holds for the players listed in italics remain on the Warriors' books from prior seasons because they haven't been renounced. They can't be used in a sign-and-trade deal.
Cap Exceptions Available
Trade exception: $1,303,360
Note: The Warriors could gain access to the taxpayer mid-level exception ($5,000,000) if they keep their team salary below the second tax apron.