4:54pm: The Warriors have formally announced in a press release that Myers will step down at the conclusion of his contract.
---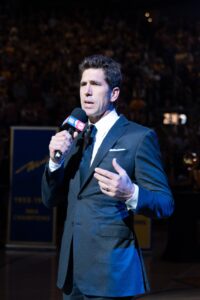 11:27pm: Warriors president of basketball operations and general manager Bob Myers has decided to step down from his position with the franchise, reports ESPN's Adrian Wojnarowski.
"It's just time," Myers told Wojnarowski.
Myers' contract with the Warriors is set to expire in June and there had been uncertainty in recent months about whether or not he would reach an agreement to remain with the team. According to Wojnarowski, Myers turned down multiple offers from Warriors ownership that would have made him one of the NBA's highest-paid executives.
Myers, who told Woj that several factors besides money went into his decision and that he's unsure about his next move, is scheduled to speak to reporters at 3:00 pm CT for his end-of-season press conference. He'll presumably go into more detail at that time about his decision to give up his front office position in Golden State, but previous reports have indicated he may step away from the NBA to spend more time with family.
A player agent before he transitioned to the team side of the business, Myers joined the Warriors as an assistant general manager in 2011. He was promoted to GM in 2012 and president of basketball operations in 2016, overseeing the most successful run in franchise history.
Although Stephen Curry was drafted before he arrived in Golden State, Myers was largely responsible for building the rosters that won titles in 2015, 2017, 2018, and 2022. He was named the NBA's Executive Year in both '15 and '17.
As Wojnarowski notes, Myers built strong relationships with Warriors franchise cornerstones Curry, Klay Thompson, and Draymond Green over the years, so his departure will add more uncertainty to an offseason that was already expected to be an eventful one in Golden State.
Thompson is extension-eligible as he enters a contract year, while Green still has to make a decision on a 2023/24 player option. Jordan Poole's lucrative new extension will also go into effect in July as more punitive penalties loom for the NBA's biggest spenders in the new Collective Bargaining Agreement.
Warriors VP of basketball operations Mike Dunleavy Jr. has been repeatedly mentioned as a possible successor for Myers. According to Wojnarowski, team owner Joe Lacob is also expected to seek a more prominent role for his son Kirk Lacob, who is the club's executive VP of basketball operations.