2022/23 was more or less the same old story for the Sixers. They had a strong regular season (54-28, the No. 3 seed in the East); Joel Embiid led the league in scoring for the second straight season en route to his first MVP award; and then he once again got injured in the first round of the playoffs, this time suffering a sprained LCL in his right knee.
Embiid only wound up missing two games with the injury thanks in part to a lengthy layoff between rounds, but he said it ordinarily would have kept him sidelined for four-to-six weeks as opposed to the two he actually missed. Still, former head coach Doc Rivers said Embiid "looked very close to normal" upon his return, with the big man later stating he "felt great."
Even prior to the injury, Embiid was not playing up to his regular season standard, with his scoring, efficiency and assists all down while his turnovers went up. That continued in the team's second-round ouster to the Celtics. Overall, he averaged 23.7 PPG, 9.8 RPG, 2.7 APG (3.9 TOV) and 2.8 BPG on .431/.179/.905 shooting in nine playoff games (37.3 MPG), compared to 33.1 PPG, 10.2 RPG, 4.2 APG (3.4 TOV), 1.0 SPG and 1.7 BPG on .548/.330/.857 shooting in 66 regular season contests (34.6 MPG).
Since 2017/18, the Sixers have the second-best regular season record in the league, going 300-173 over that six-year span for a .634 winning percentage (an average of 52 wins over an 82-game season). They made it to the playoffs each time, but have yet to advance past the second round. All of the other teams in the top five in regular season wins over the past six seasons — Milwaukee, Boston, Denver and Toronto — have at least advanced to the NBA Finals.
The goal going forward is pretty straightforward, yet anything but easy: Capitalize on Embiid's remaining prime years and win the title. The Sixers enter the offseason with some big question marks, so it will be interesting to see how the next couple months play out.
---
The Sixers' Offseason Plan
Philadelphia already made a significant change this offseason, firing Rivers and replacing him with Nick Nurse, a former Atlantic Division rival with the Raptors. Nurse developed a reputation as a creative coach who was unafraid to experiment with a wide variety of strategies.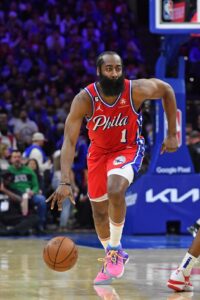 Forward Danuel House just exercised his $4.3MM player option for '23/24, which was expected after his modest role this past season. His contract isn't onerous by any means, and maybe Nurse will be able to get more out of him than Rivers did.
My expectation is that Montrezl Harrell will pick up his own $2.76MM player option and the Sixers will guarantee the $6.5MM non-guaranteed portion of De'Anthony Melton's team-friendly salary (he will make a total of $8MM). I also expect them to issue Paul Reed a $2.26MM qualifying offer to make him a restricted free agent — the young big man has expressed a desire to remain with Philadelphia.
Those moves would give the Sixers nine players with guaranteed deals for a temporary cap charge of $126.5MM (it could go up or down depending on if they give Reed a raise or let him walk).
Of course, the biggest unknown surrounding the Sixers' offseason is the status of James Harden, who reportedly plans to decline his $35.64MM player option in search of a long-term contract. As with Embiid, Harden's playoff run was once again inconsistent. He carried Philadelphia with a couple of huge performances in victories against Boston (he was solid in the third win), but struggling mightily in the four losses, including Games 6 and 7.
If Harden declines the option, the Sixers will be left with a $46.9MM cap hold and will have his Bird rights, giving them the ability to go over the cap to re-sign him while offering more money than a rival team can. However, it remains to be seen if Philadelphia is actually willing to give him a huge contract.
Harden, who will turn 34 over the summer, has been repeatedly linked to his former club in Houston over the past several months, with several reporters suggesting it may be a leverage ploy in contract negotiations with Philadelphia. We'll see what happens.
Harden is clearly past his MVP peak, but he still had a strong year, averaging 20-plus points per game for the 11th straight season while leading the league in assists (10.7) and posting a career-best assist-to-turnover ratio. Is he really worth a max (or close to it) contract at this stage? For one year, sure. A long-term deal, probably not.
The problem is, if Harden walks, the Sixers have no way to replace his ball-handling or play-making abilities. Tyrese Maxey, who is eligible for a rookie scale extension and will certainly be seeking a very lucrative deal of his own, is a terrific scorer, but making plays for others isn't his forte at the moment.
Re-signing Harden to anything close to a max would push the Sixers into the luxury tax in '23/24 and they still have several other free agents, including Georges Niang, Jalen McDaniels and Shake Milton. What happens with Harden could have a direct impact on what the team decides to do with its remaining free agents. Either way, Philadelphia will likely try to avoid the punitive second tax apron, which kicks in at $17.5MM above the luxury tax line.
As far as trade chips, Tobias Harris is entering the final year of his $39.3MM contract, which will make him a bit more appealing than he had been in previous seasons. He's a solid player who willingly adjusted his game after Harden arrived in Philadelphia, and the Sixers won't want to just dump his salary, especially if Harden walks — they'll need to make up for his lost production somehow.
I'm sure the Sixers would be happy to shed Furkan Korkmaz's $5.37MM expiring contract, and he's worth keeping an eye on as a salary-matching piece. He requested a trade in February prior to the deadline, but they couldn't find a suitable deal.
If the 76ers want to make a major win-now move, any offer would likely have to start with Maxey and Harris. I'm not sure how palatable that would be to the front office, but Maxey is the best asset the Sixers have aside from Embiid, and I don't see the big man going anywhere anytime soon. Maybe that could change if they fail to advance past the second round again next season, but I'd be shocked if he asks out this summer.
---
Salary Cap Situation
Guaranteed Salary
Joel Embiid ($46,900,000)

Note: Embiid's salary will be 35% of the 2023/24 salary cap. This is a projection based on a $134MM cap.

Tobias Harris ($39,270,150)
P.J. Tucker ($11,014,500)
Furkan Korkmaz ($5,370,370)
Tyrese Maxey ($4,343,920)
Danuel House ($4,310,250)
Jaden Springer ($2,226,240)
De'Anthony Melton ($1,500,000)

Note: Partial guarantee. Rest of salary noted below.

Total: $114,935,430

Dead/Retained Salary
Player Options
Team Options
Non-Guaranteed Salary
De'Anthony Melton ($6,500,000)

Note: Partial guarantee. Melton's salary would become fully guaranteed if he's not waived on or before July 3.

Total: $6,500,000
Restricted Free Agents
Paul Reed ($2,261,266 qualifying offer / $2,261,266 cap hold): Bird rights
Total (cap holds): $2,261,266
Two-Way Free Agents
Draft Picks
Extension-Eligible Players
Tobias Harris (veteran)
Furkan Korkmaz (veteran)
Jalen McDaniels (veteran)
De'Anthony Melton (veteran)
Shake Milton (veteran)
Paul Reed (veteran)
Tyrese Maxey (rookie scale)
Note: These are players who are either already eligible for an extension or will become eligible before the 2023/24 season begins. McDaniels, Milton, and Reed are only eligible until June 30.

Unrestricted Free Agents / Other Cap Holds
Mike Scott ($9,510,165 cap hold): Bird rights
Georges Niang ($4,504,500 cap hold): Early Bird rights
Dewayne Dedmon ($1,989,698 cap hold): Non-Bird rights
Jalen McDaniels ($1,989,698 cap hold): Bird rights
Shake Milton ($1,989,698 cap hold): Bird rights
Paul Millsap ($1,989,698 cap hold): Non-Bird rights
Kyle O'Quinn ($1,989,698 cap hold): Non-Bird rights
Myles Powell ($1,774,999 cap hold): Non-Bird rights
Total: $25,738,154
Note: The cap holds for the players listed in italics remain on the Sixers' books from prior seasons because they haven't been renounced. They can't be used in a sign-and-trade deal.
Cap Exceptions Available
Mid-level exception: $12,220,600
Trade exception: $2,448,846
Note: The Sixers would lose access to the full mid-level exception if their team salary surpasses the tax apron. If the Sixers go under the cap to use room, they'll lose access to these exceptions and will gain access to the room exception.