JUNE 5: Griffin has officially been named the Bucks' head coach, according to a team press release.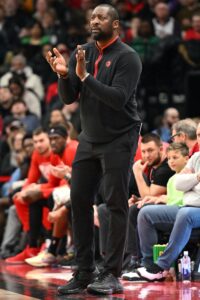 "Adrian is a widely-respected coach and former player, who brings great leadership and experience to our team," general manager Jon Horst said in a statement. "His championship-level coaching pedigree, character, basketball acumen and ability to connect with and develop players make him the ideal choice to lead our team. He has earned this opportunity."
---
MAY 27: The Bucks intend to hire Raptors assistant Adrian Griffin as their next head coach, reports Adrian Wonjarowski of ESPN (Twitter links). According to Wojnarowski, the two sides are in the process of finalizing a contract agreement.
Griffin, one of three reported finalists for the open coaching position in Milwaukee, was the only one without any previous head coaching experience.
Kenny Atkinson and Nick Nurse were also said to be in the running, though Shams Charania of The Athletic tweets that the Bucks ultimately decided between Griffin and Atkinson after Nurse pulled out of the process.
An NBA player from 1999-2008, Griffin transitioned to coaching after his retirement and has been an assistant on NBA staffs for the last 15 years. He actually began his coaching career with the Bucks from 2008-10 before moving on to Chicago (2010-15), Orlando (2015-16), and Oklahoma City (2016-18). He has spent the last five years as an assistant on Nurse's staff in Toronto.
Griffin has received head coaching consideration from multiple clubs in recent years, including the Pistons, Raptors, and Rockets this spring. He filled in as Toronto's head coach on an interim basis in February while Nurse was away from the team for family reasons and spoke about how the experience was "good practice" for his goal of eventually getting his own team.
Griffin was accused of domestic abuse by his ex-wife on social media in 2020, but vehemently denied those allegations and never faced criminal charges. He later filed a defamation suit in response.
Milwaukee launched a head coaching search after dismissing Mike Budenholzer in early May. Budenholzer earned Coach of the Year honors in 2019, won a championship in 2021, and led the team to an NBA-best 58-24 record in 2022/23. However, the top-seeded Bucks were quickly eliminated from the playoffs in embarrassing fashion by the No. 8 Heat, resulting in Budenholzer's ouster.
The Bucks reportedly interviewed at least a dozen candidates before narrowing their focus to their three finalists. According to Charania, the second round of their search included meetings with star forward Giannis Antetokounmpo, who was previously said to be "intrigued" by Griffin and endorsed the hiring.
The finalists met with Antetokounmpo on Tuesday, then with Bucks ownership on Wednesday, per Charania. On Thursday, general manager Jon Horst held a meeting to discussion the decision — that meeting included ownership, and Antetokounmpo and Khris Middleton were invited to attend, a league source tells The Athletic.
Nurse's withdrawal from the process is an interesting subplot. He's believed to be very much in the running for the head coaching vacancies in Philadelphia and Phoenix, so it's possible he's focused on landing one of those jobs. A report this week indicated Nurse had "strong support" from some members of the Bucks' organization, but that support wasn't unanimous.
The Suns, Sixers, Raptors, and Pistons remain in the market for new head coaches, with the Bucks joining the Rockets as teams that have completed coaching searches so far this spring.