The Bulls have begun reaching out to rival teams to gauge the trade value of star guard Zach LaVine, league sources tell Jake Fischer of Yahoo Sports.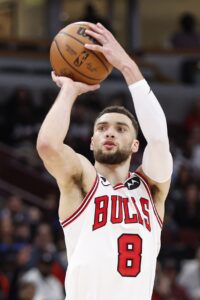 Multiple teams have told Fischer that the Bulls highly value the 28-year-old, so it sounds like their calls have been more exploratory and that no deal is imminent. Still, it's noteworthy that Chicago is weighing its options, as LaVine would presumably be one of the top players on the trade market.
LaVine re-signed with Chicago last summer on a five-year, $215MM contract. He's still owed $178MM over the next four seasons, including a $49MM player option in 2026/27.
A two-time All-Star, LaVine had a relatively slow start to the 2022/23 campaign — at least by his lofty standards — following knee surgery last offseason. He averaged 22.2 points, 4.3 rebounds and 4.2 assists on .452/.375/.813 shooting over his first 30 games (34.8 minutes per contest).
However, he regained his explosiveness and prior form over the remainder of the season, averaging 26.5 points, 4.6 rebounds and 4.3 assists on .505/.375/.862 shooting in his final 47 regular season games (36.7 minutes).
LaVine has emerged as one of the league's marquee scorers and shooters over the past five seasons, averaging 25.1 points, 4.7 rebounds and 4.5 assists on .477/.388/.838 shooting over that span. That's not to say he doesn't have some weaknesses, however, particularly off-ball defense and on-ball decision-making.
The Bulls entered the play-in tournament as the No. 10 seed in the East in '22/23 and won their first game in Toronto. But the club came up short in a close loss to the Heat, who went on to make the NBA Finals as the No. 8 seed.
Chicago's front office faces a difficult offseason, as Lonzo Ball's career appears to be in jeopardy following a third major knee surgery. DeMar DeRozan is entering the final year of his contract, while Nikola Vucevic is an impending free agent — the Bulls have reportedly discussed an extension with the veteran center.