Sixers star James Harden has decided to exercise his $35.6MM player option for 2023/24, but he doesn't intend to return to Philadelphia, reports Shams Charania of The Athletic (Twitter link). According to Charania, the plan is for Harden to work together with the 76ers to find him a new home via trade.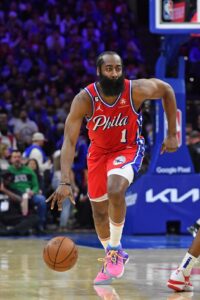 Adrian Wojnarowski of ESPN (Twitter link) confirms that Philadelphia and Harden have begun to explore trade scenarios, adding that the expectation is that the 10-time All-Star has played his last game as a Sixer.
The news comes as a major surprise. For several months, Harden's anticipated free agency was considered likely to be a battle between the Sixers and his former team, the Rockets.
Within the last week or two, Philadelphia had seemingly emerged as a clear frontrunner based on reporting from several outlets. However, the 33-year-old won't actually reach free agency after all, opting into the second season of his two-year deal with the 76ers in order to make it easier to trade him.
The Clippers have expressed interest in acquiring Harden, a league source tells Kyle Neubeck of PhillyVoice.com (Twitter link). Wojnarowski (Twitter link) confirms L.A.'s interest and says the Knicks are also expected to engage in trade conversations with the Sixers.
The Clippers, armed with several movable contracts and a long-standing desire to add a backcourt play-maker, are an intriguing potential trade partner for Philadelphia. According to Jake Fischer of Yahoo Sports (Twitter link), Los Angeles – which has been gauging the trade market for Marcus Morris and Norman Powell – have also inquired about Sixers forward Tobias Harris.
The Knicks, meanwhile, also possess a handful of tradable contracts, including Evan Fournier's expiring $18.9MM deal, and control several extra future first-round picks.
Still, Chris Mannix of SI.com (Twitter link) cautions that the Clippers and Knicks won't be Harden's only suitors. Philadelphia is already casting a "wide net," according to Mannix, who says the club will be seeking a package of players who can fit alongside reigning MVP Joel Embiid.
The Rockets could make a play for Harden via trade if they so choose, but they've seemingly shifted their focus to free agent point guard Fred VanVleet, and Harden is focused on a move to a contender, according to Wojnarowski.
Although Harden missed out on All-Star honors this year for the first time since 2012, he still posted strong numbers during the regular season, averaging 21.0 points, a league-leading 10.7 assists, and 6.1 rebounds per game with a .441/.385/.867 shooting line in 58 appearances (36.8 MPG). He was expected to be among the top free agents available this weekend if he had opted out.
Because Harden is on a two-year contract, he won't be eligible to sign an extension before he reaches unrestricted free agency in 2024. If he's moved, he'll be playing for his fourth team in four years. He was dealt from Houston to Brooklyn in January 2021 and from Brooklyn to Philadelphia in February 2022.