Veteran Knicks swingman Josh Hart is picking up his $12.9MM player option for the 2023/24 season and will return to New York, sources inform Shams Charania of The Athletic (Twitter link).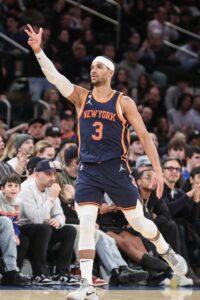 Per Ian Begley of SNY.tv (via Twitter), the 6'5″ small forward will now be eligible for a four-year extension worth over $80MM starting in August.
Hart has enjoyed a well-traveled journeyman career as a 3-and-D wing, having played for four clubs in his six NBA seasons. He was selected with the No. 30 pick out of Villanova in 2017, and spent his first two seasons with the Lakers as an intriguing reserve. He was included as a portion of the trade package that sent Anthony Davis to Los Angeles from the Pelicans. New Orleans then flipped him to Portland in during the 2021/22 season.
The 28-year-old was flipped to the Knicks by the Trail Blazers in 2022/23, and emerged as a critical two-way piece on a solid 47-35 Eastern Conference playoff club.
Across his 25 regular season contests with New York, Hart averaged 10.2 PPG on .586/.519/.789 shooting splits, along with 7.0 RPG, 3.6 APG, 1.4 SPG, and 0.5 BPG.
During his first-ever playoffs this spring, Hart averaged comparable numbers, though his shooting efficiency took a major hit while he exerted himself defensively against tougher competition.
He logged postseason averages of 10.4 PPG on .479/.313/.636 shooting splits, 7.4 RPG, 2.2 APG and 0.8 SPG in 11 games with New York, including five starts.