The Lakers may not have interest in a sign-and-trade deal for Kyrie Irving, but sources tell Shams Charania of The Athletic that Irving has reached out to LeBron James to see if they can reunite in Dallas (Twitter link).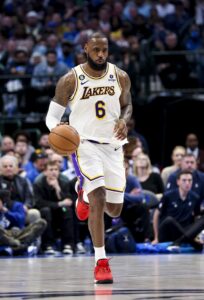 That report meshes with a story by Chris Haynes of Bleacher Report, who hears from league sources that Irving wants the Mavericks to pursue an offseason trade for James to form a new Big Three alongside Luka Doncic.
Sources tell Haynes that Dallas was preparing to make an offer for James before this year's trade deadline. However, that would not have been possible, as James was ineligible to be traded after signing an extension last summer.
James has dropped hints about wanting to play alongside Irving again, and the Lakers were reportedly strong candidates to acquire him when he considered opting out of his contract last summer and again when he asked the Nets for a trade in February.
L.A.'s asking price for James would surely be exorbitant if the team would consider a trade at all. He has one year remaining on his contract at $46.9MM and then a player option for the 2024/25 season worth $50.65MM.
Haynes points out that penalties imposed by the new Collective Bargaining Agreement will make it extremely difficult for any team to carry three max-salary players. He states that Irving and James would both have to take significant pay cuts to make the arrangement work and suggests that the most viable path for James to get to Dallas would be to demand a buyout with the Lakers, which Haynes admits is extremely unlikely.
James has a good relationship with Doncic, so that wouldn't be an impediment to a potential deal, Haynes adds. He's also close with head coach Jason Kidd, who formerly served as a Lakers assistant, as well as assistant coach Jared Dudley, an ex-teammate.
Re-signing Irving remains Dallas' top priority for the offseason, sources tell Haynes. Even though they missed the playoffs, the Mavs see a bright future for their All-Star backcourt and are determined to keep Irving after giving up two rotation players and three future draft picks to acquire the 31-year-old guard from Brooklyn.