The Magic have exercised their team option on reserve center Goga Bitadze for the 2023/24 season, while turning down their options on veteran point guard Michael Carter-Williams and combo forward Admiral Schofield, the club has announced in a press release (Twitter link).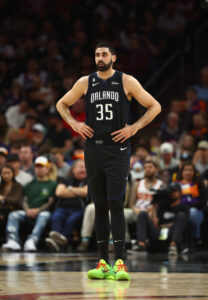 Bitadze's team option is worth $2,066,585. Carter-Williams would have earned $3.1MM next year, while Schofield's option was worth $2MM.
Bitadze, still just 23, joined the Magic midway through 2022/23 after spending his prior three-and-a-half NBA seasons with the Pacers. He carved out a role as a valuable bench option for a super-sized young Orlando club after being waived by Indiana.
Across his 17 healthy contests for Orlando, the 6'11" big man averaged 5.8 PPG, 5.2 RPG, 1.2 APG and 0.9 BPG in just 15.0 MPG.
Though Orlando finished outside of the postseason picture with a 34-48 record last year, the rebuilding team is loaded with intriguing lottery talent among its starters, including the two picks the Magic added in last week's draft, former Arkansas guard Anthony Black and ex-Michigan swingman Jett Howard. Bitadze makes sense for the timeline of the team as a young, cost-efficient option off the bench with plenty of upside left.
Carter-Williams, the 2013/14 Rookie of the Year, returned to the Magic in February after the club waived him during the 2021/22 season, as he was recovering from a left ankle surgery. He appeared in just four games during this most recent stint with Orlando, averaging 4.3 PPG, 1.8 APG and 1.3 RPG in 11 MPG. It remains to be seen if the well-traveled 31-year-old will get another league opportunity.
The 6'5″ Schofield has spent two of his three NBA seasons thus far with the Magic. In 37 games last year, he averaged 4.2 PPG on .451/.324/.913 shooting splits.