The Pistons are picking up Alec Burks' $10.5MM option for next season, ESPN's Adrian Wojnarowski tweets.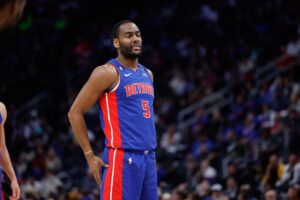 Burks appeared in 51 games for the Pistons last season, including six starts. One of the top 3-point shooting reserves in the league, Burks averaged 12.8 points in 22 minutes per game while draining 41.4% of his 3-point attempts. He also averaged 3.1 rebounds and 2.2 assists per night.
Burks was acquired from the Knicks last offseason when New York was opening up cap room to sign Jalen Brunson. In his last season with the Knicks, Burks appeared in 81 regular-season games, including 44 starts. He averaged 11.7 points, 4.9 rebounds and 3.0 assists in 28.6 minutes.
Burks provides a veteran option off the bench for new coach Monty Williams in an otherwise young guard rotation. He could also be included in a trade if the Pistons need his salary to facilitate a deal.
Detroit remains one of the few teams with cap space, projected at $30MM or more.