June 6: Vogel is officially head coach of the Suns, the team announced in a press release.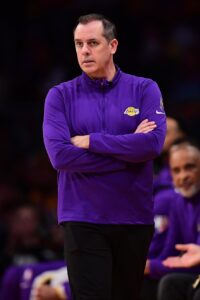 "We are thrilled to welcome Frank Vogel to the Phoenix Suns as our new head coach," said owner Mat Ishbia. "This is an important day for our organization as we continue to build a championship culture on and off the floor.
"Frank is an accomplished coach who understands how to win an NBA championship, which is our priority. Frank brings incredible character and work ethic, making him the ideal leader to continue to build one of the best organizations in all of sports."
---
June 2: The Suns intend to hire Frank Vogel as their new head coach, reports Shams Charania of The Athletic (Twitter link). Vogel will replace Monty Williams, who was dismissed this spring after four years on the job.
Vogel and the Suns are currently working on finalizing a long-term deal, according to ESPN's Adrian Wojnarowski (Twitter link). Charania says it's expected to be worth $31MM over five years (Twitter link).
This will be Vogel's fourth NBA head coaching job. He coached the Pacers for five-and-a-half seasons from 2011-16, moved to Orlando from 2016-18, and was the Lakers' leader for three years from 2019-22.
While his two years with the Magic (54-110) were forgettable, Vogel posted winning records in Indiana (250-181) and Los Angeles (127-98) and led the Lakers to a championship in 2020. Vogel, who took this past season off, was an assistant for the Celtics, Sixers, and Pacers before earning a mid-season promotion in Indiana in 2011.
Vogel was initially reported as one of five finalists for Phoenix's coaching job, alongside Kevin Young, Doc Rivers, Jordi Fernandez, and Nick Nurse. Nurse accepted a position in Philadelphia, while a subsequent report indicated that Fernandez was no longer in the running, narrowing the Suns' remaining candidates to Vogel, Young, and Rivers.
Just before word broke that Vogel was Phoenix's choice, Marc J. Spears of Andscape (Twitter link) reported that Rivers had withdrawn from consideration, though it's unclear whether that's because he decided he didn't want the job or because he got the sense the Suns were going in another direction.
Young, who served as Williams' associate head coach in Phoenix over the last few seasons, was considered a legitimate candidate who had some support within the organization, including an endorsement from star guard Devin Booker.
However, according to John Gambadoro of Arizona Sports 98.7 (Twitter link), the Suns liked the fact that Vogel has championship experience and a reputation as a defensive guru. Gambadoro adds that there's a real chance Young could remain with the Suns as the top assistant on Vogel's staff.
In Phoenix, Vogel will get the opportunity to coach a team led by Booker and Kevin Durant. The rest of the roster is in flux entering this offseason, with Deandre Ayton and Chris Paul viewed as trade candidates and only two other players – Landry Shamet and Cameron Payne – under contract.
[RELATED: 2023 NBA Offseason Preview: Phoenix Suns]
The Suns are the latest team to complete a head coaching search this spring, joining the Rockets, Sixers, Bucks, and Pistons. As our tracker shows, the Raptors are the only team that still has a coaching vacancy.