The Suns won between 19 and 24 games in the four seasons prior to hiring Monty Williams as head coach in 2019. They had missed the playoffs for nine straight seasons.
After going 26-39 to start the 2019/20 season, the Suns reeled off eight straight victories in the Orlando bubble, a positive sign of things to come. Instead of running back the same group, they decided to shake up the roster, trading for future Hall of Famer Chris Paul, a move that paid immediate dividends.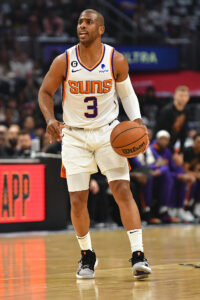 Phoenix had a remarkable turnaround in '20/21, snapping its 10-year playoff drought by going 51-21 and making a surprise run to the NBA Finals, ultimately losing in six games to the Bucks. In '21/22, the Suns held the NBA's top record at 64-18, but had a meltdown in their second-round loss to Dallas, getting blown out at home in Game 7.
The Suns contemplated dealing for Kevin Durant last summer following that playoff ouster, but decided to stand pat, matching a maximum-salary offer sheet for former No. 1 overall pick Deandre Ayton. But Paul, who is now 38, got injured shortly after the '22/23 season started and his play declined. Forward Cameron Johnson tore his meniscus as well. They seemed quite far away from making it back to the Finals again, sitting with a 30-26 record entering the trade deadline.
New owner Mat Ishbia pushed hard to go all-in for Durant once the superstar forward reissued his trade request in February. One report said president of basketball operations James Jones was reluctant to include Mikal Bridges in the deal, but ultimately relented.
Durant, 34, injured his ankle shortly after the move to Phoenix and the club didn't have much time to integrate him into the lineup before the playoffs. Injuries to Ayton and Paul played a factor in another second-round exit, this time at the hands of the Nuggets, who were clearly the better team when Devin Booker wasn't completely unstoppable.
The second consecutive playoff elimination blowout at home led to the Suns firing Williams, who had just won Coach of the Year in 2022. The Suns will also reportedly be exploring the trade markets for Ayton and Paul this summer in an effort to bring their first NBA championship trophy to Phoenix.
---
The Suns' Offseason Plan
Hiring a new head coach is the first order of business, and three finalists reportedly remain: former Sixers coach Doc Rivers, former Lakers coach Frank Vogel, and Suns assistant Kevin Young, who is said to have the backing of several players, including Booker.
Trading away Bridges, Johnson, Jae Crowder (who sat out the season until he was dealt), four unprotected first-round picks and a 2028 pick swap for Durant means the Suns don't have a ton of moveable assets. It will be difficult to improve the roster around Booker and Durant.
I have a difficult time envisioning a robust market for Ayton. When engaged, he's a very talented player with soft touch around the rim who is a plus rebounder and defender. The problem is the caveat — when engaged. Far too often Ayton looked downright disinterested over the past couple seasons, even in the biggest moments. His lack of effort during the playoffs was glaring.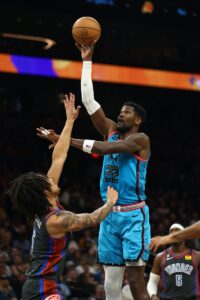 Maybe certain teams would view him as a bounce-back candidate, but even when he's at his best, I'm not sure he's worth a max contract. Despite an impressive physical profile, the 24-year-old has always been much more finesse than brawn on offense, rarely drawing fouls or effectively posting up smaller players like you'd expect.
While Ayton might hold some appeal, I have an even harder time seeing which team would be interested in paying Paul $30.8MM next season. The Suns don't have any tradable first-round picks to dump his salary, either.
If they fully guarantee the salaries of Paul and Cameron Payne, the Suns will be over the projected $162MM luxury tax line with only six players under contract (Durant, Booker, Ayton and Landry Shamet are the others, for a total of $163.7MM).
I would be a little surprised if Phoenix didn't extend a qualifying offer to Jock Landale in order to make him a restricted free agent. The QO is close to the minimum ($2.2MM), and his grit and toughness were on display in the playoffs against the Nuggets. The Australian center has spoken about wanting to stay with the Suns long term.
For the sake of argument, let's assume Landale simply accepts his QO and he doesn't get a raise or sign a long-term deal. That would leave the Suns with seven players under contract at $165.9MM. The entire rest of the roster is in flux, as they have eight potential free agents (nine including two-way guard Saben Lee).
The odds are extremely slim that the Suns will issue Darius Bazley a $6.2MM QO after he rarely played following a trade deadline salary dump. They could potentially try to bring him back on a minimum deal, but he'd become an unrestricted free agent and able to join any interested team in that scenario.
I don't have a great sense of what the team might do with Ish Wainright's minimum-salary team option, and having Non-Bird rights on Damion Lee, Josh Okogie, Terrence Ross and T.J. Warren limits what the Suns can offer any of those veterans, assuming there's mutual interest in a reunion. I don't expect Bismack Biyombo to get more than another minimum deal, whether it be from Phoenix or a different club.
The one player the Suns can pay and probably want to bring back is forward Torrey Craig, who had a solid season filling in as a starter for much of the season due to injuries. He averaged 7.4 PPG, 5.4 RPG and shot 39.5% from three while playing solid defense in 79 games (60 starts, 24.7 MPG). The 32-year-old made $5.1MM in the final year of his contract and I think he could get at least that much again on the open market.
Let's say the Suns re-sign Craig to a three-year, $18MM deal, with a $6MM salary each season. That would put their payroll for '23/24 at $171.9MM with eight players under contract. If they fill out the remainder of the standard roster (14 players instead of 15) with minimum-salary deals at a value of $2MM each, their team salary would be $183.9MM.
Starting July 1, the new Collective Bargaining Agreement will take effect, and with it the introduction of a second tax apron. In the above scenario, the Suns would be nearly $22MM over the tax line; the second apron is at $17.5MM. It is very restrictive, though it isn't clear how many of the changes would occur immediately, as some will reportedly be phased in over a few seasons.
They could dip under the second apron by salary-dumping Landry Shamet, who is owed $33MM over the next three seasons. That wouldn't make them better in the short term though, and the goal is to win right now while Durant is still playing at a very high level and Booker is in his prime.
There is a highly unlikely — but not impossible — scenario in which the Suns trade Ayton to a team with cap room, shed Paul's salary (maybe with a pick swap or two and some second-rounders?), and operate as a cap room team themselves. If they renounced all their free agent cap holds except Landale, they could have about $27MM to spend on external free agents.
That seems like a pretty drastic move given the team's desire to contend, but it could still technically be an option if the Suns are set on avoiding the tax while trying to sign someone like Fred VanVleet without having to worry about a sign-and-trade, which is the only way they could acquire him presently. I'm also not even sure $27MM is enough to sign VanVleet — I wouldn't be shocked if he got $30-35MM annually.
---
Salary Cap Situation
Guaranteed Salary
Kevin Durant ($47,649,433)
Devin Booker ($36,016,200)
Deandre Ayton ($32,459,438)
Chris Paul ($15,800,000)

Note: Partial guarantee. Rest of salary noted below.

Landry Shamet ($10,250,000)
Cameron Payne ($2,000,000)

Note: Partial guarantee. Rest of salary noted below.

Total: $144,175,071

Dead/Retained Salary
Player Options
Team Options
Non-Guaranteed Salary
Chris Paul ($15,000,000)

Note: Partial guarantee. Paul's salary would become fully guaranteed if he's not waived on or before June 28.

Cameron Payne ($4,500,000)

Note: Partial guarantee. Payne's salary would become fully guaranteed if he's not waived on or before June 29.

Total: $19,500,000
Restricted Free Agents
Darius Bazley ($6,205,035 qualifying offer / $12,793,887 cap hold): Bird rights
Jock Landale ($2,189,698 qualifying offer / $2,189,698 cap hold): Early Bird rights
Total (cap holds): $14,983,585
Two-Way Free Agents
Draft Picks
No. 52 overall (no cap hold)
Extension-Eligible Players
Chris Paul (veteran)
Cameron Payne (veteran)
Note: These are players who are either already eligible for an extension or will become eligible before the 2023/24 season begins.

Unrestricted Free Agents / Other Cap Holds
Torrey Craig ($6,658,536 cap hold): Early Bird rights
Bismack Biyombo ($1,989,698 cap hold): Early Bird rights
Damion Lee ($1,989,698 cap hold): Non-Bird rights
Josh Okogie ($1,989,698 cap hold): Non-Bird rights
Terrence Ross ($1,989,698 cap hold): Non-Bird rights
T.J. Warren ($1,989,698 cap hold): Non-Bird rights
Elfrid Payton ($1,989,698 cap hold): Non-Bird rights
Gabriel Lundberg ($1,774,999 cap hold): Non-Bird rights
Total: $20,371,723
Note: The cap holds for Payton and Lundberg remain on the Suns' books from prior seasons because they haven't been renounced. They can't be used in a sign-and-trade deal.
Cap Exceptions Available
Taxpayer mid-level exception: $5,000,000
Trade exception: $4,975,371
Note: The Suns may not have access to any form of mid-level exception next season if certain new rules related to the second tax apron go into effect immediately and their team salary is above that second apron. The Suns would gain access to the full mid-level exception and the bi-annual exception if their team salary remains below both tax aprons.