Aleksej Pokusevski sustained a small right humerus fracture during an offseason workout yesterday, the Thunder announced (via Twitter). The humerus is the bone that connects the shoulder to the elbow.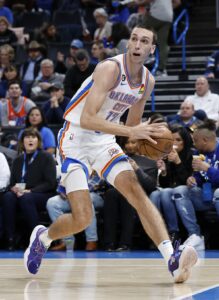 The third-year big man will be reevaluated in about four-to-six weeks, so he should be back in plenty of time for fall training camp if all goes well.
Pokusevski, 21, suffered a non-displaced tibial plateau fracture in his left leg in late December and missed extended time, which obviously affected his solid start to the season. At the time of the leg injury, he had played 31 games, including 25 starts (21.8 minutes), and averaged 8.8 points, 5.1 rebounds, 2.0 assists and 1.3 blocks on .440/.376/.636 shooting; he only made three more appearances the rest of the way.
The young Serbian struggled with efficiency and defense in his first two seasons, but he had started to figure out the speed of the NBA game in 2022/23 prior to getting injured. He played almost exclusively center this season after previously floating between multiple frontcourt positions.
As a former first-round pick (17th overall in 2020) now in his third year, Pokusevski will be eligible for a rookie scale extension in the offseason.