The Warriors are trading Jordan Poole and future draft picks to the Wizards for Chris Paul, reports Adrian Wojnarowski of ESPN (Twitter link).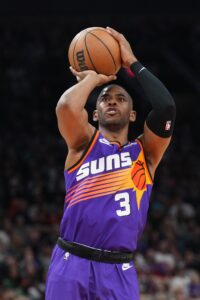 Golden State has no plans to waive Paul, and the two sides are looking forward to working together, sources tell Chris Haynes of Bleacher Report (Twitter link).
According to Shams Charania of The Athletic (Twitter links), Golden State will be sending Washington a protected 2030 first-rounder and a 2027 second-rounder, along with Ryan Rollins, who was a second-round pick last year.
[UPDATE: The Wizards also reportedly receiving Patrick Baldwin.]
The 2030 first-round pick is top-20 protected, per ESPN's Zach Lowe (Twitter link), and those protections can't be pushed to 2031 since the pick is already seven years out. That means there's a zero percent chance that the Wizards will get a top-20 selection from the Warriors. The pick seems likely to turn into a 2030 second-rounder if it falls within its protected range, though that has yet to be confirmed.
Rollins' $1.7MM salary for '23/24 was fully guaranteed, tweets Anthony Slater of The Athletic, and removing him from the books will open up a roster spot, likely for a veteran. The former Toledo guard's '24/25 salary is partially guaranteed at $600K.
Jake Fischer of Yahoo Sports was first to report (via Twitter) that Golden State was actively discussing a Poole trade. Fischer heard the Wizards tried to land Golden State's first-round pick in tonight's draft — No. 19 overall — as part of the trade, but the Warriors were able to keep it.
As John Hollinger of The Athletic notes (Twitter link), the trade will have to be finalized in July when Poole's four-year, $125MM extension kicks in, as Poole is currently on the last year of his rookie contract. Poole is currently subject to the poison pill provision due to the difference between his 2022/23 and '23/24 salaries.
Paul's $30.8MM contract for '23/24 is expected to be fully guaranteed as part of his initial trade from Phoenix to Washington, tweets ESPN's Bobby Marks. It had previously only been guaranteed for $15.8MM. However, Paul's $30MM salary for '24/25 is fully non-guaranteed.
While the Warriors have been linked to Paul in the past, it's still a shocking turn of events to shed Poole's contract for a 38-year-old future Hall-of-Famer. Despite being known for his incredible basketball IQ, Paul's teams typically play in a slow, methodical style, which doesn't seem like an obvious fit with Golden State's motion offense.
The deal is yet another indication that the Warriors are abandoning their "two timeline" plan to develop their young players alongside their veterans and instead are going all-in on the present. The club traded former No. 2 overall pick James Wiseman in February in order to reacquire Gary Payton II, who had signed with Portland in free agency last summer.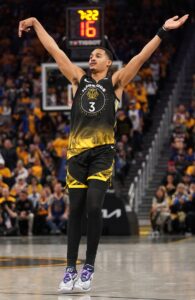 According to Slater (Twitter link), the Warriors are placing a big bet on their medical staff, led by Rick Celebrini. Paul has a lengthy injury history, including sustaining a groin strain during the postseason, which sidelined him for four games in Phoenix's second-round exit to the Nuggets.
Poole, the 28th pick of the 2019 draft, struggled mightily as a rookie for Golden State, but he turned a corner in the second half of year two, which lead to a breakout third season. He averaged 18.5 PPG, 4.0 APG and 3.4 RPG on .448/.364/.925 shooting during the '21/22 regular season, playing a key role off the bench in helping the Warriors win their fourth title in eight seasons.
However, his '22/23 season was derailed before it even started after being punched by Draymond Green in training camp. There was an awkwardness between them for the remainder of the season, and while Poole showed flashes of scoring brilliance, he also frustrated with turnovers, decision-making, and poor shot selection. Poole averaged 20.4 PPG, 4.5 APG and 2.7 RPG on .430/.336/.870 shooting during the regular season, but was ice cold in the playoffs, averaging just 10.3 PPG and 3.5 APG on .341/.254/.765 shooting.
Poole is still only 24 years old, so the Wizards will be gambling on him returning to his previous upward trajectory. They'll also pick up some marginal draft assets as part of the deal for taking on his long-term contract.
Paul, one of the most accomplished point guards in league history, holds career averages of 17.9 PPG, 9.5 APG, 4.5 RPG and 2.1 SPG on .472/.369/.870 shooting in 1214 regular season games across 18 NBA seasons. While he was still effective in '22/23, he also averaged a career-low 13.9 PPG to go along with 8.9 APG, 4.3 RPG and 1.5 SPG on .440/.375/.831 shooting in 59 regular season games.