The Timberwolves are expected to guarantee Jordan McLaughlin's salary for 2023/24, tweets Darren Wolfson of 5 Eyewitness News and SKOR North.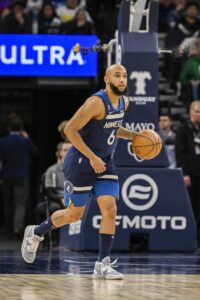 Chris Hine of The Star Tribune has heard similarly from a league source (Twitter link).
The veteran point guard's $2.32MM contract was fully non-guaranteed, but it certainly sounds like the Wolves will keep him around. As our list of early salary guarantee dates shows, we're still waiting on decisions for several other players who have a Friday deadline for their contracts to become guaranteed.
McLaughlin, 27, had a strong showing in the 2021/22 playoffs, but suffered a significant calf injury that limited him for much of last season. He ultimately appeared in 43 games off the bench, averaging 3.7 PPG and 3.4 APG on .421/.308/.833 shooting in 15.8 MPG.
Known as a player who takes excellent care of the ball, McLaughlin has spent all four of his NBA seasons with Minnesota. According to Hine, both sides are hopeful McLaughlin will have a bounce-back '23/24 season with better health.
McLaughlin is set to hit unrestricted free agency in 2024.