JULY 23: The Bulls have officially re-signed Dosunmu, the team confirmed today in a press release.
---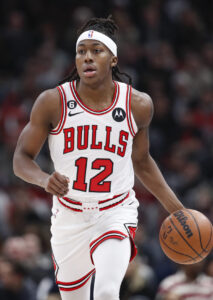 JULY 21: The Bulls will retain shooting guard Ayo Dosunmu on a three-year deal worth $21MM, tweets ESPN's Adrian Wojnarowski. The contract was confirmed by Dosunmu's agent, Mike Lindeman of Excel Basketball, Wojnarowski adds.
Chicago made Dosunmu a restricted free agent by extending a $5,216,324 qualifying offer last month. The Bulls would have been able to match any offer he received, which likely limited his interest on the open market. The Raptors were the only team reported to be considering Dosunmu over the past three weeks.
The 23-year-old guard appeared in 80 games last season, making 51 starts and averaging 8.6 points, 2.8 rebounds and 2.6 assists in 26.2 minutes per night. However, his playing time and effectiveness both decreased after Chicago signed Patrick Beverley late in the season.
Chicago selected Dosunmu with the 38th pick in the 2021 draft and he made an immediate impact, starting 40 of the 77 games he played as a rookie. He earned a combined $2.49MM during his first two years in the league, so the new contract represents a significant raise.
Once Dosunmu's contract becomes official, the Bulls will have 13 players on guaranteed contracts and will be about $3MM below the luxury tax, tweets K.C. Johnson of NBC Sports Chicago. Carlik Jones is also on the roster, but his $1.9MM deal is non-guaranteed until opening night.
The Bulls also re-signed Coby White this summer and brought in free agent guard Jevon Carter, so the competition for backcourt minutes will have to be worked out in training camp.