The Bucks have officially completed three of their reported free agent signings, having re-signed forward Khris Middleton and center Brook Lopez while also adding swingman Malik Beasley, according to NBA.com's transaction log.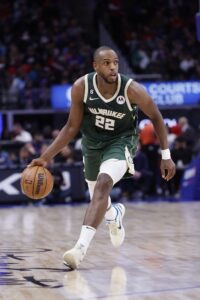 Middleton reached a deal with the Bucks during the first couple hours of free agency last Friday evening, reportedly agreeing to terms on a three-year contract that will pay him $102MM.
Middleton turned down a $40.4MM player option in order to secure a more significant overall financial commitment, though he'll accept a lower salary in 2023/24. That reduction should help the Bucks' luxury tax situation in the short term.
Lopez, who drew significant free agent interest from the Rockets, ultimately rebuffed Houston's advances in order to return to Milwaukee on a two-year deal worth a reported $48MM. He and the Bucks reached that agreement on Saturday.
The veteran center and former All-Star had one of his best NBA seasons in 2022/23, bumping his scoring average to 15.9 PPG (his best mark since his Brooklyn days) and finishing as the runner-up in Defensive Player of the Year voting.
As for Beasley, he's joining the Bucks on a one-year, minimum-salary contract after finishing last season with the Lakers. The veteran wing, who agreed on Monday to sign with Milwaukee is a career 37.8% three-point shooter on 5.8 attempts per game, so he'll help spread the floor for his new team in 2023/24.
The Bucks are still on track to formally complete deals with Jae Crowder, Robin Lopez, and A.J. Green as well.