JULY 26: Brown has officially signed his super-max extension, the Celtics announced today (via Twitter).
---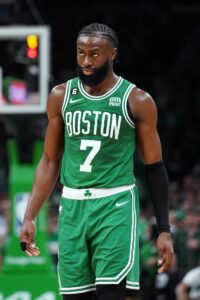 JULY 25: The Celtics and star wing Jaylen Brown are in agreement on a five-year, super-max contract extension, agent Jason Glushon tells Marc J. Spears of Andscape (Twitter link).
The deal, which is worth a projected $304MM, is fully guaranteed and includes a trade kicker, but doesn't feature a fifth-year player option, tweets Shams Charania of The Athletic.
It's the most lucrative deal in NBA history, and a massive investment by the Celtics in Brown, who became eligible for a super-max extension – with a starting salary worth 35% of the cap instead of 30% – by making the All-NBA Second Team this spring.
The 26-year-old averaged a career-best 26.6 points per game on .491/.335/.765 shooting while also contributing 6.9 rebounds, 3.5 assists, and 1.1 steals per night across 67 appearances (35.9 MPG). He earned his second All-Star nod and helped the Celtics get to within one game of the NBA Finals.
Brown had been entering a contract year in 2023/24 and there was a belief that it would be difficult for the Celtics to extend him if he hadn't become super-max eligible, due to the NBA's limitations on veteran extensions. Once Brown made an All-NBA team, it opened the door for the two sides to reach an agreement on a deal that will tack on five years to his current contract and ensure he's under team control through 2028/29, keeping him off next summer's free agent market.
While it took a few weeks for the two sides to come to terms, reports throughout July consistently maintained that there was optimism it would eventually get done — now it has.
The projected $304MM figure is based on an assumption that the NBA's salary cap will increase by 10% again in 2024/25, as it has in each of the last two seasons. Assuming that's the case, Brown will earn approximately $52.4MM in the first year of his new contract; that number would jump all the way up to $69.1MM by year five, resulting in a total of about $303.7MM.
Before his new extension takes effect, Brown will earn a base salary of $28.5MM in 2023/24, with an additional $3.3MM available in incentives.
Brown will become the 12th player to sign a designated veteran contract since the NBA introduced it in 2017. Even if the cap doesn't increase by a full 10% next offseason, the value of Brown's extension will comfortably surpass Nikola Jokic's five-year, $276.1MM contract with Denver — Jokic's deal was previously the most lucrative in NBA history.
Brown's teammate Jayson Tatum also achieved the super-max performance criteria this spring, but won't have the service time necessary to sign a designated veteran extension of his own until the 2024 offseason. Assuming the Celtics also ink Tatum to a super-max deal, which could become the new richest contract in league history, they'll have to figure out a way to build and maintain a competitive roster around two massive contracts in the coming years.
As Bobby Marks of ESPN notes (via Twitter), once Brown officially signs his extension, he'll be ineligible to be traded for a full calendar year.