The Jazz have signed their three first-round picks — forward Taylor Hendricks, guard Keyonte George, and forward Brice Sensabaugh — to rookie scale contracts, according to a team press release.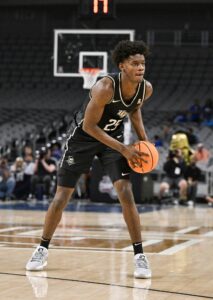 Hendricks, the No. 9 overall pick, will make $5,569,920 in his first season. He'll bank $25,351,580 over the life of the four-year contract. The UCF product averaged 15.2 points, 7.0 rebounds and 1.7 blocks in 34.7 minutes during his only college season.
George will receive $3,889,800 in his first season. The four-year contract is worth $18,816,885.
The No. 16 pick started 33 games for Baylor in his lone collegiate season and averaged 15.3 points, 4.2 rebounds, 2.8 assists, and 1.1 steals in 28.7 minutes per game. He was named the Big 12 Freshman of the Year.
Sensabaugh, taken with the 28th pick out of Ohio State, will bring in $2,448,600 as a rookie. The four-year deal is worth $12,576,077. He appeared in 33 games last season and averaged 16.3 points. 5.4 rebounds, and 1.2 assists in 24.5 minutes per game.
First-round picks virtually always sign contracts worth 120% of their rookie scale amount and the above figures represent those amounts. Rookie scale contracts are guaranteed for the first two years, with team options on the third and fourth years.