JULY 14: Miles' two-way deal with the Mavs is official, the team announced (via Twitter).
---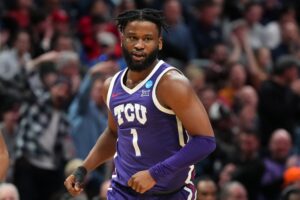 JUNE 23: The Mavericks have agreed to ink undrafted TCU point guard Mike Miles Jr. to a two-way deal, sources inform Shams Charania of The Athletic (Twitter link).
The 6'1″ Miles averaged 17.9 PPG, 2.7 APG, 2.7 RPG and 1.2 SPG during his third and final year with the Horned Frogs in 2022/23. He also posted an encouraging slash line of .497/.362/.749.
A two-time All-Big 12 Second Team selection, as well as a two-time All-Big 12 Tourney pick, Miles will be an interesting project on a guard-heavy Dallas club.
While still at TCU, Miles also played for gold-medal Team USA in the 2021 FIBA Under-19 World Cup in Latvia.
The Mavericks submitted an active draft night, trading the No. 10 pick and the contract of power forward Davis Bertans to the No. 12 pick to select Duke center Dereck Lively II, as well as acquiring big man Richaun Holmes and the rights to No. 24 pick Olivier-Maxence Prosper, out of Marquette, from the Kings.