JULY 9: Powell has officially re-signed, the Mavericks announced (via Twitter).
---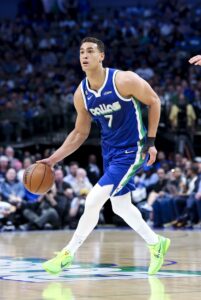 JULY 1: Dwight Powell will remain with the Mavericks on a three-year, $12MM contract, tweets ESPN's Adrian Wojnarowski. The new deal represents a significant pay cut for Powell, who earned more than $11MM in each of the last three seasons.
Dallas views Powell as part of a center platoon and a mentor for first-round pick Dereck Lively II, according to Tim McMahon of ESPN (Twitter link).
The 31-year-old big man served as Dallas' main starting center the past two years, although he frequently played less than half the game. He averaged 6.7 points and 4.1 rebounds in 19.2 minutes per night last season while shooting a career-best 73.2% from the field.
Powell is one of the few remaining NBA players to be drafted by the Charlotte Bobcats, who took him with the 45th pick in 2014. He was traded on draft night and then was dealt two more times during his rookie season before winding up in Dallas, where he has remained ever since.
The Rockets had interest in Powell and were hoping to set up a meeting with him on Friday. However, the Mavericks were determined to re-sign Powell and were able to keep him at a bargain price.