JULY 6: The Mavericks have officially acquired Lively's rights in exchange for Bertans and the rights to Wallace, the team announced today (via Twitter).
---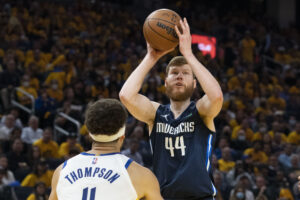 JUNE 22: The Mavericks and Thunder have agreed to a trade, according to Shams Charania of The Athletic, who reports (via Twitter) that Davis Bertans and the No. 10 pick are headed to Oklahoma City in exchange for the No. 12 pick.
The Thunder selected Kentucky guard Cason Wallace at No. 10, Charania adds, while Dallas will get off Bertans' pricey multiyear contract. The No. 12 pick that Dallas acquired was used on Duke big man Dereck Lively II, Shams Charania of The Stadium tweets.
The Mavericks will generate a $17MM trade exception with this trade, according to Yossi Gozlan of HoopsHype (Twitter link). They'll now be approximately $74MM under to projected luxury tax line, which will help them make other moves, such as re-signing Kyrie Irving.
[UPDATE: Mavs to use trade exception to acquire Richaun Holmes]
The Mavs were looking to move down in the lottery, get off a bad contract and acquire a veteran starter, according to Tim MacMahon of ESPN (Twitter link). They accomplished the first two goals with this deal. They also add a promising young rim protector in Lively, who will fill a hole in the Dallas frontcourt with the team considered unlikely to re-sign big man Christian Wood.
Bertans had a career year in 2019/20 with the Wizards and cashed in with a five-year, $80MM deal. Dallas acquired Bertans as part of the Kristaps Porzingis trade with Washington.
The Thunder now pick up the two remaining years left on his deal — $17MM next season and $16MM in 2024/25 with an early termination option. The final year is only partially guaranteed for $5MM.
Oklahoma City's desire to move up was motivated by the concern that another team might jump the Thunder by making a trade with Orlando, which held the No. 11 pick, Jeremy Woo of ESPN tweets. The Raptors, who held the No. 13 selection, were a potential trade-up suitor for Wallace.