Free agent guard McKinley Wright IV has signed with KK Buducnost, also known as Buducnost Voli, the Montenegrin club announced in a press release (hat tip to Dario Skerletic of Sportando).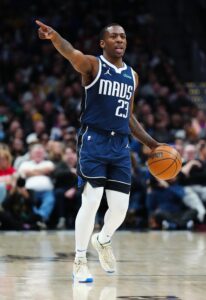 After going undrafted in 2022 following four standout seasons at Colorado, Wright signed a two-way contract with the Timberwolves, appearing in five NBA games for a total of 19 minutes as a rookie in 2021/22. He didn't return to Minnesota for his second season, instead signing an Exhibit 10 deal with Dallas last summer which was converted to a two-way contract last fall.
Wright spent all of '22/23 with the Mavericks on the aforementioned two-way contract, appearing in 27 games while averaging 4.2 points, 2.1 assists and 1.7 rebounds on .469/.321/.684 shooting in 12.4 minutes per night. The 6'0″ point guard played well at the G League level over the past two seasons for the Iowa Wolves and Texas Legends, the affiliate clubs of the Timberwolves and Mavericks, respectively.
Buducnost has completely dominated the Prva A Liga in Montenegro, winning 15 of 16 domestic championships. The team also competes in the Adriadic (ABA) League, which featured clubs from Montenegro, Serbia, Croatia, Slovenia, North Macedonia and Bosnia and Herzegovina last season. Budocnost made the semifinals of the ABA League First Division playoffs in '22/23, falling to Crvena zvezda.
Buducnost also competes in the fall EuroCup tournament, which features clubs from all over Europe, and has made it in the past to the EuroLeague, widely considered the top professional league outside of the NBA.