JULY 18: Harrell has officially re-signed with the Sixers, according to NBA.com's transaction log.
---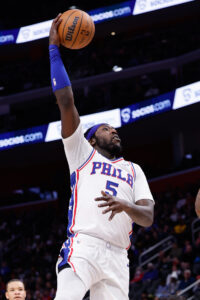 JULY 6: Free agent big man Montrezl Harrell is returning to the Sixers on a one-year contract, ESPN's Adrian Wojnarowski reports (via Twitter).
Harrell became a free agent when he declined his veteran's minimum-salary option for next season. He settled for another veteran's minimum contract that's fully guaranteed, Kyle Neubeck of Philly Voice tweets.
Because Harrell's option salary had been based on a 5% raise and the cap increased by 10%, his new salary ($2.89MM) will top the one he would've received on his old contract ($2.76MM), so he made the right call to opt out. Philadelphia will carry a $2.02MM cap hit for the 29-year-old in 2023/24.
Harrell appeared in 57 games for the Sixers in 2022/23, averaging 5.6 points and 2.8 rebounds in 11.9 minutes per night. He only appeared in two postseason games.
Prior to last season, Harrell had posted career averages of 12.9 PPG and 5.3 RPG in 21.5 MPG across 458 games, earning Sixth Man of the Year honors in 2020. His numbers this past season were his lowest since his rookie year (2015/16).
Harrell will once again fight for rotation minutes in Philadelphia, this time with Nick Nurse making those decisions.
The agreement between Harrell and the Sixers puts into question the status of restricted free agent Paul Reed. Philadelphia is adding another big man, Mohamed Bamba, on a one-year deal.