With the NBA's salary cap set at $136,021,000 for the 2023/24 league year, the rookie scale has been set as well. The rookie scale locks in the value of contracts for first-round picks.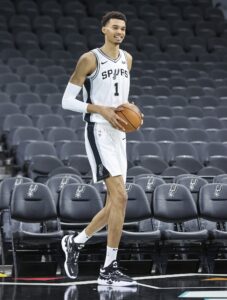 In every NBA league year, rookie scale amounts are assigned to each first-round slot, from No. 1 through No. 30. Teams can sign their first-rounders to as little as 80% of that rookie scale amount, or up to 120% of that figure.
While that rule theoretically affords teams some flexibility, first-round picks virtually always sign contracts worth 120% of their rookie scale amount, and unsigned first-rounders have a cap hold worth 120% of their rookie scale amount.
Listed below are the salary figures that represent 120% of the rookie scale amounts for 2023's first-round picks. If a first-round pick signs a rookie scale contract in 2023/24, it will be for the amount below unless he accepts a deal worth less than the maximum allowable 120%. If that happens, we'll adjust their amounts below.
These salary figures will only apply if the player signs in 2023/24. If a player doesn't sign an NBA contract this year, his rookie contract will look a little different in future seasons.
Rookie scale contracts are guaranteed for the first two years, with team options on the third and fourth years.
Here's the 2023 breakdown, with the help of data from RealGM:
| Player | 2023/24 | 2024/25 | 2025/26 | 2026/27 | Total |
| --- | --- | --- | --- | --- | --- |
| Victor Wembanyama | $12,160,680 | $12,768,960 | $13,376,880 | $16,868,246 | $55,174,766 |
| Brandon Miller | $10,880,400 | $11,424,600 | $11,968,800 | $15,104,626 | $49,378,426 |
| Scoot Henderson | $9,770,880 | $10,259,160 | $10,748,040 | $13,585,523 | $44,363,603 |
| Amen Thompson | $8,809,320 | $9,249,960 | $9,690,600 | $12,258,609 | $40,008,489 |
| Ausar Thompson | $7,977,480 | $8,376,000 | $8,775,000 | $11,117,925 | $36,246,405 |
| Anthony Black | $7,245,480 | $7,607,760 | $7,970,280 | $10,106,315 | $32,929,835 |
| Bilal Coulibaly | $6,614,280 | $6,945,240 | $7,275,600 | $9,240,012 | $30,075,132 |
| Jarace Walker | $6,059,520 | $6,362,520 | $6,665,520 | $8,478,541 | $27,566,101 |
| Taylor Hendricks | $5,569,920 | $5,848,680 | $6,127,080 | $7,805,900 | $25,351,580 |
| Cason Wallace | $5,291,400 | $5,555,880 | $5,820,240 | $7,420,806 | $24,088,326 |
| Jett Howard | $5,026,800 | $5,278,320 | $5,529,720 | $7,337,938 | $23,172,778 |
| Dereck Lively | $4,775,640 | $5,014,560 | $5,253,360 | $7,239,130 | $22,282,690 |
| Gradey Dick | $4,536,720 | $4,763,760 | $4,990,560 | $7,131,510 | $21,422,550 |
| Jordan Hawkins | $4,310,160 | $4,525,680 | $4,741,320 | $7,021,895 | $20,599,055 |
| Kobe Bufkin | $4,094,280 | $4,299,000 | $4,503,720 | $6,904,203 | $19,801,203 |
| Keyonte George | $3,889,800 | $4,084,200 | $4,278,960 | $6,563,925 | $18,816,885 |
| Jalen Hood-Schifino | $3,695,040 | $3,879,840 | $4,064,640 | $6,243,287 | $17,882,807 |
| Jaime Jaquez | $3,510,600 | $3,685,800 | $3,861,600 | $5,939,141 | $16,997,141 |
| Brandin Podziemski | $3,352,440 | $3,519,960 | $3,687,960 | $5,679,458 | $16,239,818 |
| Cam Whitmore | $3,218,160 | $3,379,080 | $3,539,760 | $5,458,310 | $15,595,310 |
| Noah Clowney | $3,089,520 | $3,244,080 | $3,398,640 | $5,414,034 | $15,146,274 |
| Dariq Whitehead | $2,966,040 | $3,114,240 | $3,262,560 | $5,366,911 | $14,709,751 |
| Kris Murray | $2,847,480 | $2,990,040 | $3,132,000 | $5,315,004 | $14,284,524 |
| Olivier-Maxence Prosper | $2,733,720 | $2,870,400 | $3,007,080 | $5,259,383 | $13,870,583 |
| Marcus Sasser | $2,624,040 | $2,755,080 | $2,886,720 | $5,198,983 | $13,464,823 |
| Ben Sheppard | $2,537,160 | $2,663,880 | $2,790,720 | $5,031,668 | $13,023,428 |
| Nick Smith | $2,463,960 | $2,587,200 | $2,710,680 | $4,890,067 | $12,651,907 |
| Brice Sensabaugh | $2,448,600 | $2,571,480 | $2,693,760 | $4,862,237 | $12,576,077 |
| Julian Strawther | $2,431,080 | $2,552,520 | $2,674,200 | $4,826,931 | $12,484,731 |
| Kobe Brown | $2,413,320 | $2,533,920 | $2,654,880 | $4,792,058 | $12,394,178 |