JULY 6: Westbrook's new deal with the Clippers is official, according to NBA.com's transaction log.
---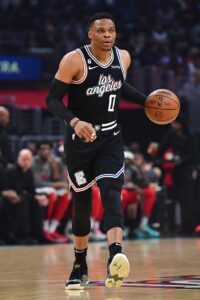 JULY 1: Russell Westbrook will re-sign with the Clippers for nearly $8MM over two years, tweets ESPN's Adrian Wojnarowski. Westbrook will receive a player option for the second season, Wojnarowski adds.
L.A. will use the Non-Bird exception for Westbrook, who joined the team in February after being traded to the Jazz and negotiating a buyout. The Clippers are limited to a 20% raise for Westbrook over the veteran's minimum contract he played under last season.
He will receive $3,835,738 for the 2023/24 season and $4,027,525 for the following year if he exercises the option. The deal gives Westbrook a chance to opt out and test the market again next summer as an unrestricted free agent.
Westbrook struggled through the season and a half he spent with the Lakers, but he was able to revive his reputation somewhat with the cross-town Clippers. He became a full-time starter again after the move and averaged 15.8 points, 4.9 rebounds and 7.6 assists in 21 games while helping the team avoid falling into the play-in tournament.
The Clippers were "eager" to keep Westbrook after his late-season performance, Wojnarowski adds.
The former MVP and nine-time All-Star is considered a shoo-in Hall of Famer, but his standing around the league has fallen in recent years due to his declining shooting percentage, his penchant for turnovers and the number of times he has changed teams. After spending the first 11 seasons of his career in Oklahoma City, the Clippers marked Westbrook's fifth team in six years.
He also became a scapegoat for an underachieving Lakers team, and trade rumors started circulating shortly after he was acquired in a 2021 deal. The Lakers had to part with a future first-round pick to send him to Utah, but before that happened, he experienced a coaching change and was made a full-time bench player for the first time in his career.
Clippers management was originally cool on the idea of adding Westbrook in February, but they relented after lobbying from Paul George and Kawhi Leonard.
L.A. was considered to be among the front-runners to land Chris Paul after the Suns traded him to Washington last month, but the Warriors snagged Paul by agreeing to part with Jordan Poole. The Clippers indicated that they would have considered re-signing Westbrook even if they had traded for Paul.